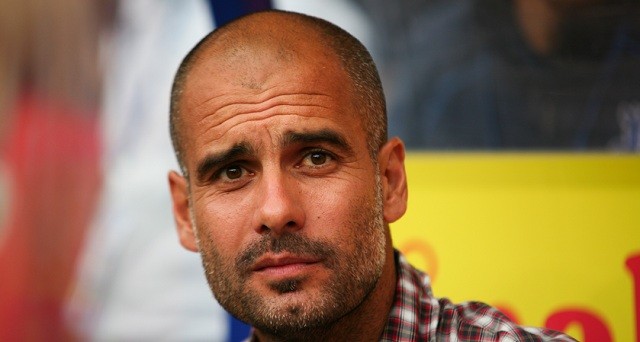 Manchester United, despite massive injury issues, are playing very poor football. After spending such astronomical funds, falling out of the Champions League, getting beat all over the pitch by Bournemouth, and lacking any offensive originality, manager Louis Van Gaal is officially on the hot seat.
New reports are now saying that the Red Devils may have a strong chance at a world renown manager. Pep Guardiola has had nothing but incredible success since becoming a manager and it seems as though this will be his final season at the head of the German giants Bayern Munich.
Speaking to German network ARD, the 44 year-old manager said, "Next week, you will know the answer. Next week there will be clarity." Even those within Bayern's board do not expect to hold on to Guardiola.
After 14 titles with Barcelona and currently 5 with Bayern, the stage has been set for maybe the world's best manager to come to the English Premier League.
Reports seem to clear that if he decides to leave, Guardiola will come to Manchester. Whether with the Reds or Sky Blues remains the question.
The central issue that holds many from predicting a Guardiola move to Old Trafford is whether or not he is interested in such a questionable and young core. The troubled attack Memphis Depay 21, Anthony Martial 20, Jesse Lingard 22, a slowing Wayne Rooney and Juan Mata are not showing a whole lot of promise as a unit.
There is no fluidity or diversity within their attack which makes it tough to believe that this group can be a dominant international force. But there is theory claiming that this same group would have plenty of success without being choked under Louis Van Gaal's system.
In the 1990's, Fergie's Fledglings consisting of Ryan Giggs, Paul Scholes, the Neville brothers, Nicky Butt and David Beckham also had their doubters. Their success did not become established until a veteran spark helped launch them into their glory. At that time it was Eric Cantona. Today United need to find that spark.
Without a Galactico signing who can accelerate this Red Devil rebuild, it is hard to imagine that Guardiola would choose them over their cross city rivals.
However, Hunter Graham via BBC Sport, said today that "if the cards fall his way, his (Guardiola) wish is to sample life at Manchester United for a variety of reasons."
These "cards" might have to be Gareth Bale, Neymar, or a returning Cristiano Ronaldo. If United are somehow able to sign one of these players, United should be in the lead for the Bayern Manager.
But the Citizens are looming large. With an established attack of De Bruyne, Aguero, Sterling, and Silva along with the stability of Hart, Otamendi, and Kompany at the back, this team is capable of winning the Champions League one day.
Guardiola's only sleight is the fact that he has inherited super clubs. I ask, will Guardiola follow the same path as before or does he try something new? Hopefully his upcoming announcement will give us better insight on where the world class manager will be next season.