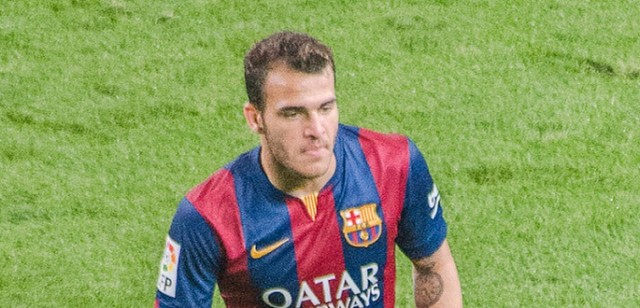 https://www.youtube.com/watch?v=TjIQsfsLEq8&feature=youtu.be
Over the last decade, Barcelona's youth academy has been cultivating the finest players in world football. Now, another rising star from La Masia is ready to follow in the footsteps of the likes of Andres Iniesta, Cesc Fabregas, Pedro Rodriguez and Lionel Messi. His name is Sandro Ramirez.
The 20-year-old was absolutely brilliant scoring a terrific hat-trick and delivering an exquisite assist in Barcelona's cup game in Copa Del Rey against Villanovense in this early December.
The laudable tally alone was certainly not enough for us to be overly optimistic about the future of the youngster. But the way Sandro Ramirez achieved it truly showed that he has what it takes to become the next world-class forward.
Sandro Ramirez scored his first goal in the 21st minute when he anticipated and intercepted the pass of Villanovense goalkeeper before producing a superb curling effort into the far corner. The anticipation was good and the execution of the shot was decisive and extremely accurate. The unnerving composure Sandro Ramirez displayed in front of goal was simply fantastic.
It had only been ten minutes before the Barcelona starlet put himself on the scoresheet again. Sandro Ramirez first picked the perfect timing to sprint and outrun the defender to receive the through ball from his teammate. Then an improvisation of swiftly prodding the ball past the goalkeeper into the near corner thoroughly showcased his skills and creativity. It was the kind of goal you will see from Luis Suarez, but the young forward proved that he is also talented enough to emulate.
Sandro Ramirez's enticing performance continued on with a goal that was all about confidence and quality finishing and a back-heel pass of incredible vision and intelligence. the Spaniard gave his side a 5 -1 advantage by smashing the loose ball home 12 yards away from the goal on 69th minute and assisted Munir El Haddadi to bring the final score-line to 6 -1 five minutes later.
Although Sandro Ramirez had every right to go for his fourth goal having beaten the offside trap to one-on-one with the goalkeeper, he still managed to pick out Munir El Haddadi who was cutting inside from behind to score the open goal. His awareness of his teammates' position as well as the selflessness and calmness in front of goal were absolutely priceless.
If Liverpool was ever visionary enough to move for Sandro Ramirez, the future dynamic forward who can also play as a wide-man, £20m will be a respectable bid to convince Barcelona to sell the young talent without any kind of recall clause. Should that happen, the Reds is undoubtedly  laying the foundation for them to thrive on a long-term basis considering how scarce and overpriced world-class strikers and wingers are in the transfer market.
Estimated Value of Sandro Ramirez: £18~20m