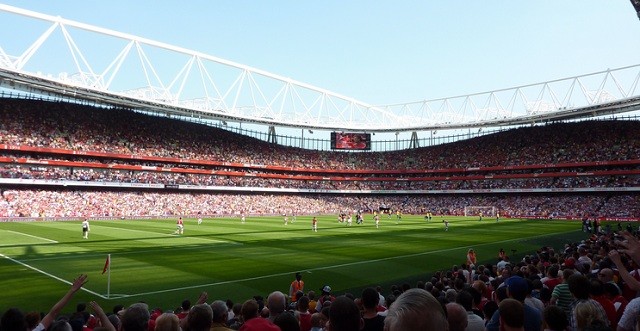 While Arsenal are only two points out of first place and have played solidly since the injuries to Santi Cazorla and Francis Coquelin, it is possible that their form could slip in their extended absence. Mathieu Flamini is doing a decent job anchoring the midfield currently, but it is apparent that Arsene Wenger needs to bring in some reinforcements.
Metro is reporting that Arsenal have interest in acquiring midfielder William Carvalho from Sporting Lisbon in January. The Portuguese International has been linked to Arsenal in the past and it is clear that interest is still prevalent between him and Arsene Wenger.
Carvalho is a young and powerful defensive midfielder that would fill the necessary void and even battle Francis Coquelin for a long term starting role. The 23 year old has the defensive capabilities of Coquelin and also the vision and passing of Cazorla. Paired along side of Aaron Ramsey in central midfield, Carvalho would be able to free up the Welshman to move forward to get into his natural dangerous attacking positions.
Similar to former Arsenal superstar Patrick Viera in size and skill, Carvalho would be an ideal January signing for an Arsenal club with lack of depth in the central midfield. Carvalho's physicality would suit the Barclays Premier League and his transition to English play would be pretty seamless.
The only snag in this deal could be his price tag. Sporting Lisbon reportedly want 32 million for their star man and that is a lot to shell out for a short term replacement, as Francis Coquelin is only out until February.
As previously mentioned though, Carvalho could pry the starting spot from Coquelin as his talent is exceptional, but it is quite a risk to take with a Manager known to be reluctant to spend big money. Another factor working against the deal is that he could be significantly cheaper in the summer window than right now. Arsenal though need to be eying in on winning the League this year though and should do all they can to get there, no matter the price.