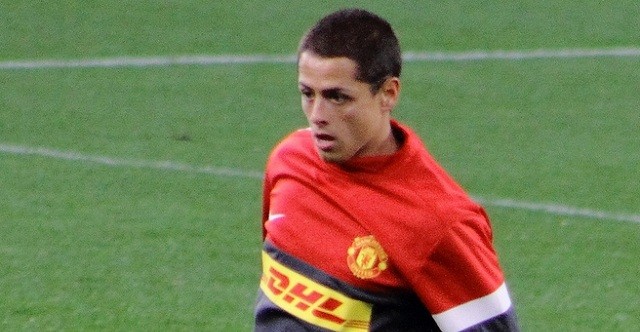 It was another impressive performance from Javier "Chicharito" Hernandez as he scored a quality hat-trick against Borussia Moenchengladbach on Saturday to continue his sensational form ever since his playing time was guaranteed in Bayer Leverkusen.
Being known as one of the most efficient marksman in front of goal, the former Manchester United forward surly had taken his game to a new level this term while still remaining industrious and dedicated as he always is on the pitch.
For such a long time, close-range headers and accurate shootings within the six-yard box were deemed as Chicharito's two biggest weapons. But this season, we started to see another side of him – top-notch finishes from distances, beautiful curling efforts and even some brilliant pace to convert the half-chances. There is no doubt that the Mexican international had already grown into a more well-rounded and lethal attacker in front of goal.
10 goals in 11 appearances in Bundesliga and 5 goals in 6 appearances in UEFA Champions League, Javier Hernández has emerged as a new goalscoring machine and the Reds will be foolish not to get their hands on his service first.
From my perspective, Chicharito has all the great attributes that are missing from Liverpool's new No.9 Christian Benteke – concentration on the field, clinical finishing in front of goal and a little bit pace, speed and skill to create chances on his own or link up with his teammates seamlessly. And above all, fitness has never been his enemy and that is crucial for the long term success of any footballer.
Chicharito and his energy as well as excellent movement on and off the ball would be a perfect fit for the free-flowing and high-tempo football Liverpool is trying to play under Jurgen Klopp. Plus, it's hard not to like someone works as hard as Chicharito and always provides results whether you are the coach, his teammate or a supporter.
Liverpool is in desperate need of a prolific striker to boost their top four chances. And the 27-year-old is the best and arguably the most realistic target for Liverpool in January due to the fact that Javier Hernández is still not the biggest name in the Europe. However, his finishing is absolutely top class and exactly what the Reds need on the offensive side.
Meanwhile, the idea of playing for a prestigious club like Liverpool in Premier League under the guidance of Jurgen Klopp would certainly impel the Bayer Leverkusen ace to rethink his future.
Estimated Value of Javier Hernández: £22~25m