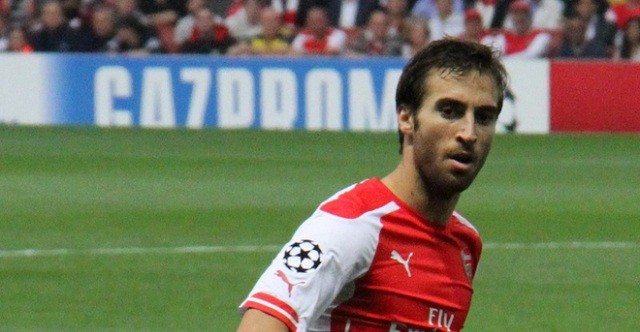 Arsenal fans are urging 'billionaire' Mathieu Flamini to purchase Barcelona star Lionel Messi ahead of the Gunners' Champions League encounter against Barcelona
Arsenal did fantastically well to reach the knockout stages of the Champions League but it looks like the Gunners will progress no further than the Round of 16 after being handed a daunting clash against defending champions Barcelona.
While it would be unfair to rule out Arsenal's chances before even a ball has been kicked, the Gunners' faithful are not too optimistic and with the injuries piling up, many are struggling to see how the North London side will be able to beat the all conquering Barcelona over two legs.
Flamini to convince Messi to join Arsenal?
Upon the misery at being handed a draw against Barcelona, Arsenal fans have put in humorous ideas for their side to be able to beat the Catalan giants and none more so than to urge 'billionaire' midfielder Mathieu Flamini to purchase superstar Lionel Messi ahead of the game.
Flamini is a partner in an Italian company, GFBiochemicals, which is an organic compound that could be used as a precursor to biofuels and it is believed that the undertaking could be worth billions for the French midfielder.
A beloved figure among Arsenal fans, Flamini has now been urged to help the Gunners sign Barcelona star Lionel Messi – who is valued at around £200million, ahead of the clash between the two sides in February.
@jordancoughlann it's alright Flamini's gonna take over and buy Messi and Ronaldo ?

— Martin Jeggo (@mjeggo95) December 14, 2015
????? "@YaredtheGuy: @santasballsacks @BaddieMimz @walker8701 Flamini to score a hat trick and use his billions to buy Messi ?"

— Blueberry Spicehead (@Fresh_Lezinto) December 14, 2015
@BTECSomali @SpanishKash1 @niitroplaydirty use flamini's 20bn to buy messi we sorted

— riquisha (@supitsrikki) December 14, 2015
Arsenal fans trying to get flamini to buy messi in Jan ???

— Jack Clark (@Jackclark10) December 14, 2015