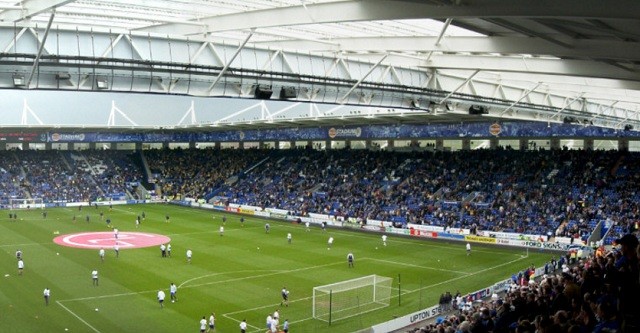 Chelsea won against Norwich and Maccabi Tel-Aviv, while drawing against Tottenham, which made many think that Chelsea were back on ideal form. However, they were all shocked when Chelsea lost to Bournemouth and even more surprised when they managed to win Porto in order to stay in the Champions League.
So it's apparent that the Blues have been extremely inconsistent, with them having an overall better form in the Champions League rather than the Premiere League. And with them being very weak in the Barclays Premiere League, most people are predicting that Leicester will win against Chelsea in Monday's matchup.
Goalkeeper
Thibaut Courtois made an impressive return from injury, with him single-handedly keeping Chelsea in the game against Bournemouth until the 82nd minute, and keeping a valuable clean sheet against Porto. So it would make the most sense for him to start against Leicester City.
Defence
John Terry and Kurt Zouma's partnership in Chelsea's central defense has been a pleasant surprise and a massive help to Courtois who kept a clean sheet against the same Porto who had previously won them 2-1 when the Blues were using the Cahill and Zouma duo (and also had Begovic in goal). Terry and Zouma compliment each other in Chelsea's defense, as Zouma has high energy and great physical ability, while Terry is the defensive mastermind and has the experience.
For the fullback positions, Cesar Azpilicueta will be expected to start as Chelsea's Left Back, as he has consistently performed well in the current season. But Chelsea's Right Back position is a different story, with most of Chelsea's defensive problems rooting from the right side in the current season, and Ivanovic taking the biggest blame.
He has been extremely inconsistent, performing decently against Porto, but disappointing the fans with his lackluster performance against Bournemouth. So it would make sense for Chelsea to give Abdul Rahman Baba another chance to impress at the Right Back position, as he has previously proved (in Chelsea vs. Maccabi Tel-Aviv) that he could do well on the right side.
Midfield
Most of Chelsea's midfielders have had a shocking slump in form, which has made it difficult for Jose Mourinho pick out a perfect midfield. However, the best choice would be to start Nemanja Matic and Ramires in the Central Midfield position, as their recent performances have been decent enough to guarantee them a spot in the team.
Eden Hazard is starting to get his old form back, and should definitely start as Chelsea's Left Attacking Midfielder. While Willian, who has undoubtedly been Chelsea's best player throughout the 2015/16 season, will most likely start as the Blues' Right Attacking Midfielder. It also seems like Oscar would start as Chelsea's attacking midfielder, mostly because of his good performance against Porto.
Attack
Diego Costa is another one of Chelsea's players who has lost his previous form, with him only scoring 3 goals for the Blues in the current season. But he looks as if he is slowly gaining back his form, so his good performance against Porto should guarantee him a spot in Chelsea's team sheet, as another start would also help him gain more confidence.
(4-2-3-1)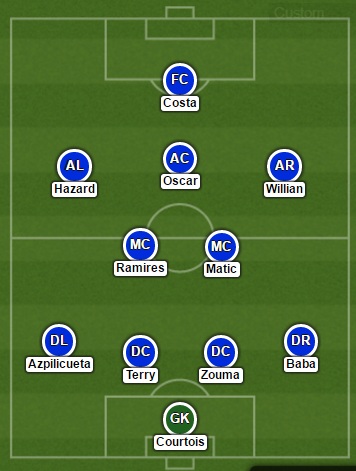 Via – Lineup Builder