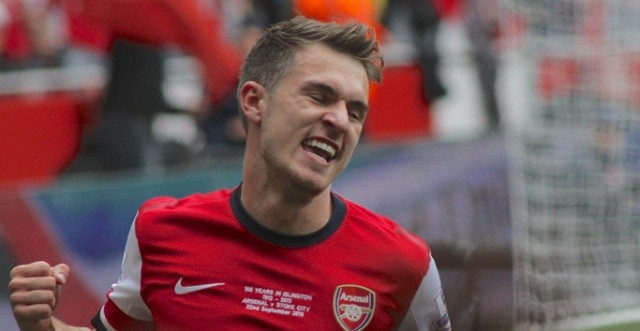 Coming off an impressive 3-0 victory of Olympiacos, Arsenal had a much easier matchup on Sunday against the last place team in the Premier League.  Their opponent, Aston Villa, had just 1 victory and 3 ties in a total of 15 matches prior to their matchup with Arsenal.
There was some controversy in the 7th minute when Theo Walcott was shoved down by Alan Hutton inside the penalty area for a clear foul.  It appeared that the referee did not initially call a penalty, but after a couple moments he did point to the spot.
Walcott was able to use his blazing speed to get behind the Aston Villa defense, and the only way for Hutton to stop the breakaway was to try to foul Walcott.  Olivier Giroud calmly hit the penalty in the bottom corner, and Guzan went the wrong way, giving him no chance.  Giroud continued his impressive scoring run and Arsenal was up 1-0.
Arsenal did not look dominant, but they scored a second goal in the 38th minute.  Mesut Ozil, the assists leader in the Premier League this season, passed the ball to a wide open Aaron Ramsey who had the entire goal in front of him for an easy finish.  Aston Villa were beginning to show why they were in last place.
Villa came out with a bit more aggressiveness and intensity.  They started getting the ball into dangerous areas, and it looked as though they had a chance to get back into the game.  They had a few close misses, but were unable to find the back of the net and Arsenal won 2-0.
Aaron Ramsey was the player of the game for Arsenal, as he made great contributions on both the defensive and offensive ends of the field.  This was demonstrated during the second Arsenal goal. Ramsey made a key tackle that led to a counter-attack where he eventually received a pass from Ozil that he put in the back of the net for a goal.
Ramsey completed 90.8% of his 76 passes, and he made a team high 5 tackles in the match.  He also led the team in passes completed, and he helped Arsenal control the game in the midfield.  His passing, defensive work, and his goal are why Aaron Ramsey deserves the player of the game award.