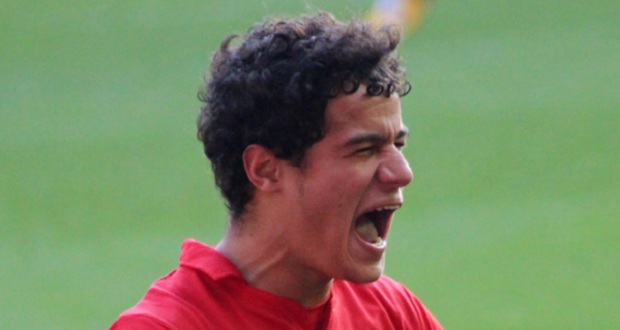 Jurgen Klopp and Liverpool made it to the last 32 of the Europa League despite a goalless draw with Sion on Thursday. The new manager did not field the strongest squad given that the team has been playing a lot of matches lately.
He should return to choosing the best players available with a very winnable meeting with West Bromwich Albion this Sunday. This match is a wonderful chance for the team to bounce back after losing 2-0 to Newcastle last weekend.
Goalkeeper
Simon Mignolet should have yet another uneventful day in goal this Sunday but as usual, he has to remain focused if he wants to get a clean sheet.
Right-Back
Nathaniel Clyne will have the toughest assignment this weekend as he will likely have to mark James McClean. While Clyne is definitely more than capable of shutting the Irish winger down, he will have to make sure that he is not caught too far up the field when Liverpool lose control of the ball.
Center-Backs
After conceding two goals against Newcastle, Martin Skrtel and Dejan Lovren will be relieved that they will be facing a weak West Bromwich attack that has only scored 14 goals this season. The pair should be able to deal with Salomon Rondon rather easily, the tougher task is making sure that they are not surprised by a run from a midfielder.
Left-Back
Alberto Moreno finally got a day off after Brad Smith took over the position in the last match. The Spaniard should return to his role as a fearless attacking outlet against the visitors and he should have another great performance given his recent form.
Midfield
Jordan Henderson made his first start under the new manager on Thursday but hopefully he gets another one this weekend. The team has missed his all-around brilliance and it is always great to get the captain back on the field.
The physical duo of Lucas Leiva and Emre Can should be able to focus on dominating the middle of the pitch now that Henderson is back in the squad. They will have to shut down James Morrison since he is one of the most dangerous players on the opposing team.
Right Wing
While Adam Lallana is not the flashiest option Klopp has, his hard work all over the pitch and unselfishness is still an asset to the team. With Roberto Firmino struggling to find his form again and Jordon Ibe dealing with an illness, Lallana may be the best option in this position.
Forward
Christian Benteke is Liverpool's best attacking option once again after Daniel Sturridge suffered yet another hamstring injury and Divock Origi not proving his consistency outside of his remarkable hat trick against Southampton. Both his teammates and Benteke himself need to prove that he can work in Klopp's new scheme, this weekend's match against West Bromwich is the perfect oportunity to do so.
Left Wing
Philippe Coutinho may finally return to the lineup after missing a few matches because of injury. He remains a catalyst for the Reds and his return should lead to an even more dangerous offense from the team. His presence forces opposing defenders to focus on him and that allows his teammates to find weak spots to exploit.
(4-3-3)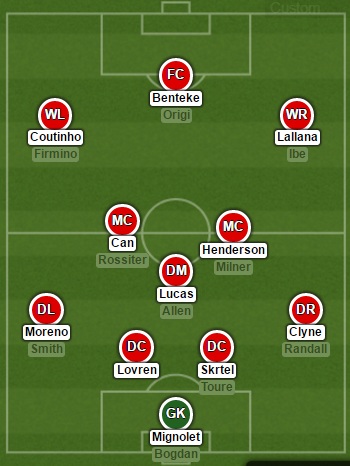 Via – Lineup Builder