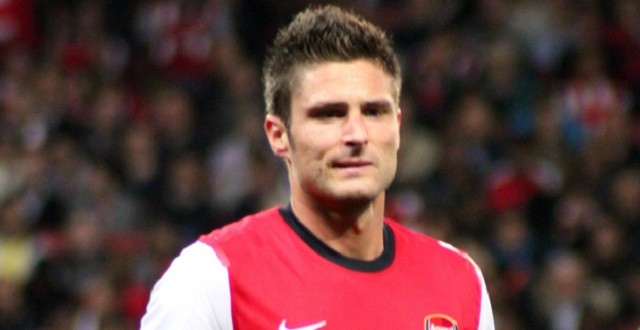 With a two goal victory over Olympiacos, or a one-goal victory of 3-2 or higher, Arsenal would successfully advance out of the Champions League Group Stage.  If Arsenal fail to advance, it would be the first time in 16 years that they did not make the knockout stage of Champions League.
Needing at least two goals to advance, the Gunners went with a very attacking lineup, and it paid off early on.  In the 29th minute Arsenal's Aaron Ramsey whipped in a fantastic cross that Giroud was able to head on target.  The ball trickled past the Olympiacos goalie, Roberto, on his near post to give Arsenal the 1-0 lead.
Arsenal opened up the second half with a second goal from Olivier Giroud in the 49th minute.  Joel Campbell supplied Giroud with a good ball, and Giroud was able to calmly put the ball in the back of the net to give Arsenal a 2-0 lead.  If this result held, Arsenal would find themselves advancing to the knockout stage.
In the 66th minute Nacho Monreal took a shot that was headed on target, but it was blocked by the hand of Elabdellaoui.  The referee pointed to the spot to award the penalty.
Olivier Giroud took the penalty, and he calmly placed it into the corner of the goal to complete his hat trick.  The goal gave Arsenal an insurmountable lead, as Olympiacos would now need three goals to advance.  The rest of the game was inconsequential as Arsenal won 3-0.
Olivier Giroud clearly deserves player of the game honors, as he carried this Arsenal team to the knockout stage of the Champions League.  This was perhaps the best performance for Giroud in his entire Arsenal career, and it was his first hat trick ever with the team.
Olivier Giroud had four shots in the game with all of them going on target.  He won numerous headers throughout the game and he was obviously the key player in the Arsenal win.  His performance helped Arsenal advance to the Champions League knockout stage for the sixteenth consecutive year.