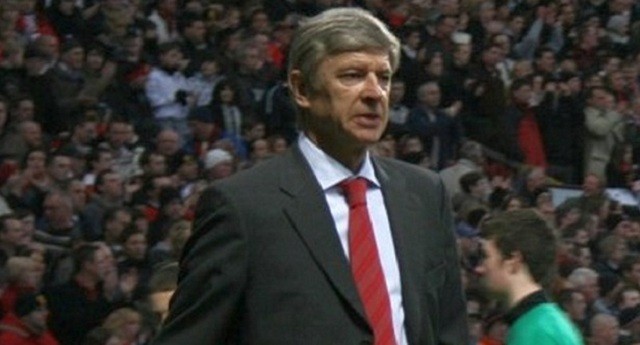 Arsenal face Olympiakos at the Karaiskakis Stadium in a match they must win by a 3-2 score line or a two-goal margin. Anything less will see them play in the Europa League come February.
Whilst injuries have been the storyline these past few weeks, Arsenal were able to pull off a 3-1 home win against Sunderland on Saturday. Their effort showed resilience, determination, and a new midfield dynamic with Mesut Özil taking on more responsibilities and Aaron Ramsey showing his goal scoring potential.
Arsene Wenger described the win on Saturday as good preparation for the club's difficult matchup Wednesday evening.
The last time these two teams met, Olympiakos came out 3-2 winners at the Emirates Stadium. Arsenal has failed to beat Olympiakos in Greece on three consecutive occasions. In fact, Olympiakos have assembled an impressive list of fallen giants at their home turf over the past decade. That list includes Juventus, Real Madrid, Borussia Dortmund, Manchester United, Atletico Madrid, and Benfica.
If Arsenal has to settle with Europa League football, they would be labeled as one of the favorites. However, winning the competition would prove to be a significant challenge.
Wenger may not say so publicly, but the Europa League would represent a difficult challenge for the Gunners. In theory the time in between matches will not alter too much, but the amount of traveling they will have to do increases, the distance they travel increases, and the match atmospheres will be more hostile.
Being knocked out of their Champions League group would be a significant failure for the Gunners this season. They've made it difficult for their selves, but Wenger has a history of qualifying against the odds.
No new team news to report, besides the club confirming that Jeff Reine-Adelaide will feature on the bench.
.@Arsenal team news: the squad is unchanged from Saturday, with Jeff Reine-Adelaide also travelling #OLYvAFC pic.twitter.com/Qo1MTRsptN

— Arsenal FC (@Arsenal) December 8, 2015
Here is Arsenal's most probable starting lineup
Goalkeeper – Cech
Petr Cech made a series of important saves to keep Arsenal in the game this past weekend. A similar performance will be required on Wednesday.
Although it may be nothing, it seemed that Cech failed to communicate with his teammates in a few key moments over the weekend. Specifically, on Olivier Giroud's own goal, it looked like Cech failed to shout out for Giroud to leave the ball. It's possible he did not see Giroud move towards the ball.
A second time, there was a mix up between Nacho Monreal and Cech where Monreal headed the ball back to a spot that Cech had just left. It seemed that at that moment Cech hadn't shouted out to his defender and Monreal made a hand gesture to indicate that sentiment.
Although those are two isolated incidents, it may be something to look out for.
Right Back – Bellerin
Hector Bellerin has struggled to regain the form he exhibited before he was injured early in November. His young age and injury are both likely factors in his drop in form, and although it's not quite yet time to see Mathieu Debuchy in the starting lineup, Wenger may consider rotating his right backs more frequently.
For that matter, Debuchy spoke to the French press about his lack of playing time. He indicated he would seek out a move in January if things didn't change this month and he expects to hold talks with Wenger in the coming weeks. You can read the full transcript here.
Center Backs – Mertesacker & Koscielny
Per Mertesacker and Laurent Koscielny will have to be at their best on Wednesday. Both players were decent on Saturday although there were two or three moments where Sunderland was able to split and get behind them too easily.
Left Back – Monreal
Monreal put in a good performance on Saturday and played a key role in Arsenal's second goal. His consistency and effort will be counted on Wednesday.
Defensive Mid – Flamini
The midfield was unbalanced with Mathieu Flamini and Ramsey partnering up on Saturday. They duo needs a string of games together for them to develop a better understanding between each other and their teammates.
It was encouraging to see both players work hard for the full 90-minutes, especially when it seemed things would not go their way. The same effort from players is expected on Wednesday.
Center Mid – Ramsey
Ramsey put in an effective performance on Saturday, despite not necessarily passing the eye test. He put together 114 out of 124 passes, which illustrates his work ethic despite some obvious frustrations.
His goal and assist are typical of what we can come to expect from Ramsey in midfield. His charging, well-timed runs in the box put him in dangerous scoring positions, and place him well to set up his teammates. Ramsey's assist to Giroud's goal is an excellent example of that.
His energy will be required on Wednesday.
Attacking Mid – Özil
Özil put in a masterful performance on Saturday and the English language is quickly running out of appropriate adjectives for Özil's performances this season.
With Francis Coquelin and Santi Cazorla both out for at least three months, Özil's responsibilities expanded and he showed willingness and ability to accept those responsibilities. He looked to collect the ball deeper, played quick one-twos with his teammates to seamlessly move the ball forward, and showed his class with quick flicks and cuts that granted him additional time and space on the ball. Especially this one.
Özil himself believes that he is having the best season of his career. The effect Özil has within the team is exactly what Wenger envisioned when he made the German the club's most expensive signing.
Wide Right – Oxlade-Chamberlain
Alex Oxlade-Chamberlain put in an unimpressive performance on Saturday. He should be given the benefit of the doubt considering he just returned from a months long injury absence. However, part of the problem is his lack of confidence, which was an issue before his injury, as well.
Oxlade-Chamberlain needs to settle down, focus on playing to his strengths, and enjoy himself on the field. This next month is an opportunity for him to claim a place in the squad. Wenger may not have many options right now, but when players return from injury, Oxlade-Chamberlain's place in the squad could diminish unless he turns things around.
Wide Left – Campbell
Joel Campbell opened the scoring on Saturday with his second league goal for the club. Other than his goal, he was unimpressive. He lost possession often, broadcasted exactly where his passes and dribble attempts were heading, and didn't get up the pitch fast enough on the break to provide an outlet.
Once Campbell scored, his energy level picked up for about 15 minutes. Another 15 minutes later, Wenger removed him.
The Costa Rican international had an excellent match against Dinamo Zagreb in Arsenal's last match in the Champions League. Wednesday provides Campbell an opportunity to impress his teammates, Wenger, and get one over his former club.
Striker – Giroud
Giroud scored a good, driven header that proved to be the match winner on Saturday. He was also the scorer of Sunderland's goal after he miss-hit a clearance that ended up in the top corner of his own net.
It was another match where Giroud was frustrated by the physicality and lack of refereeing help (not that he deserved any).
Part of the reason Giroud reacts so emotionally in matches is caused by fatigue. With Theo Walcott making a return from injury over the weekend, Giroud can soon be granted a much-needed rest.
(4-3-3)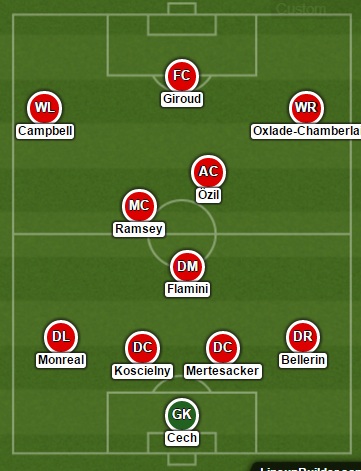 Via – Lineup Builder