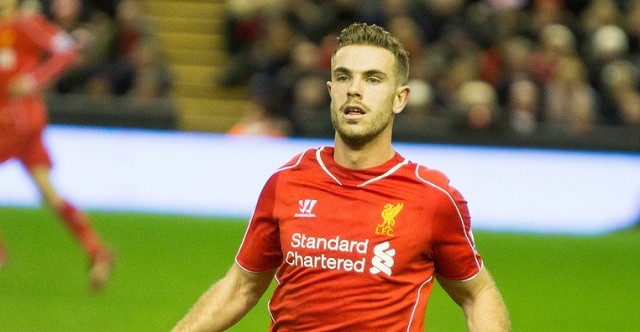 Jurgen Klopp's Liverpool look to continue their 4-game winning streak as they take on Newcastle in the Barclays Premier League this Sunday.
Ever since the 2-1 loss to Crystal Palace in early November, Liverpool have been in flying form with 4 consecutive wins in both league play and in cup competitions. In these last four games, Liverpool have outscored opponents 13-4 and have looked well on their way to being fully integrated into the title race for the Premier League trophy.
Newcastle are a club that are on the opposite end of the spectrum as their opponents on Sunday. They have only two wins in Premier League play and sit in 19th place. Their ineptitude to score goals and their poor defensive solidity are the defining qualities of their lackluster season so far.
Liverpool have the lead over their counterparts with an 24-8-10 all-time record vs Newcastle in the Premier League.
With the return of integral players Daniel Sturridge and Jordan Henderson, Klopp faces a huge test this week to put the strongest players on the pitch, as a result of the depth in Liverpool's team. His lineup on Sunday will look something like this:
Goalkeeper – Simon Mignolet
Mignolet has been a huge part of Liverpool's success this season with 14 clean sheets in the Premier League so far, ranking first among any other premier league goalkeeper. Second choice keeper Adam Bogdan put in a quality performance vs Southampton midweek, but Mignolet has proven to be Liverpool's most consistent shot stopper, and should retain his position on Sunday.
Right Back – Nathaniel Clyne
Clyne has been remarkably consistent in his defensive quality for Liverpool this season, showing great improvement in his tracking of defenders on set pieces. However, his value to Liverpool shows itself the most during attacking play as his prowess going forward is far superior to most defenders in the premier league.
Centre Back – Dejan Lovren
Lovren, who is second choice behind the injured Mamadou Sahko, has proved under Jurgen Klopp that he is capable of being a regular first team option. His relationship with Martin Skrtel has further developed, which is why he is the best option for Liverpool on the back line.
Centre Back – Martin Skrtel
Many would equate Skrtel's most recent performances to be just average. He has done well on set piece defense, but still struggles to track attackers in open play. With reports that Klopp is looking for a new defender in January, Skrtel's recent mediocre performances could be some of his last as a starter for Liverpool.
Left Back – Alberto Moreno
Recent reports out of Spain claim that Real Madrid are in full pursuit of the young Spaniard. Although this is a very humbling situation for Moreno, he claims that Liverpool is where he hopes to remain. The left back has fully cemented himself into a spot in the starting eleven, which he shows no signs of losing with his superb performances over recent matches.
Center Defensive Midfield – Jordan Henderson
This would be the Liverpool captains first start since August 17th, as his broken foot has kept him sidelined ever since. Jordan's return to first team activity will provide crucial support for Liverpool if they have any hopes of challenging for the Premier League trophy.
Center Defensive Midfield – Lucas Leiva
Lucas is the engine of this Liverpool team. He will look to break down the weak midfield of Newcastle, and boost his options going forward with the return of Henderson as his midfield partner.
Center Midfield – James Milner
Milner's "lead by example" style of leadership is what many around Liverpool admire most about the experienced midfielder. However, the suspension of midfielder Emre Can is the only factor keeping Milner in the starting lineup. When Emre returns, Milner is set to see some time on the bench because of his inconsistent play in attack.
Center Attacking Midfield – Roberto Firmino
Firmino had his most fulfilling performance in the 4-1 away victory against Manchester City two weeks ago. There is no doubt that he is one of Liverpool's most exciting attacking options. He displays immense quality and composure in the 18-yard box, and instills confidence into his teammates on the field.
Center Attacking Midfield – Adam Lallana
Lallana has failed to score a goal or tally an assist in any of his recent matches, and consistently remains anonymous for crucial spans of time throughout matches. Lallana is more than likely filling the role left vacant by the injured Philippe Coutinho, whose return date is to be determined week to week.
Striker – Daniel Sturridge
Sturridge made his first ever start under his new boss Jurgen Klopp midweek and scored two goals, securing that 6-1 away win at Southampton. He has a remarkable 4 domestic goals in his 4 sporadic appearances for Liverpool, as his injuries have kept him out of the team for the majority of this season.
(4-2-3-1)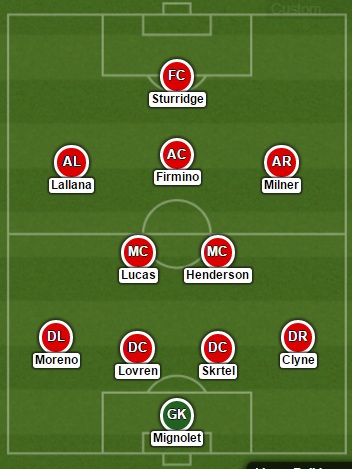 Via – Lineup Builder