Chelsea seem to be finally crawling out of their terrible form, with them winning 3 of their last 5 games, and getting a precious 0-0 draw against an in-form Tottenham side. However, the Blues are still only 5 points away from the relegation zone and will be looking for all 3 points of their match against Bournemouth.
Many Chelsea fans are expecting an easy win for the Blues, but you never know what could happen against an unpredictable Bournemouth side who recently came back from 2-0 down against an in-form Everton and drew the game 3-3 in the 98th minute!
Goalkeeper – Thibaut Courtois
Thibaut Courtois, Chelsea's first choice goalkeeper, is finally back from injury and could protect the Blues' net against the Cherries. He is a brilliant goalkeeper who'll be hoping for a cleansheet in his first game after nearly 3 months.
Right Back – Branislav Ivanović
Although Baba's performance against Maccabi Tel-Aviv was great enough to guarantee an start for him against Tottenham Hotspurs, Mourinho played Ivanovic in the right back position. And while many were questioning The Special One's decision, they were later convinced when Ivanović performed and defended well.
Now it seems like he is finally finding his form, and is slowly gaining the confidence that made him one of Chelsea's key players in the previous season. So naturally, he should start for the Blues in Saturday's match.
Central Defender – Gary Cahill
Gary Cahill's recent good form continued against Tottenham, where he was generally solid in the back and didn't make a single mistake. So it seems like he could do the same against Bournemouth and should be in the starting lineup.
Central Defender – Kurt Zouma
Zouma is an incredible Centre Back; he makes no mistakes and is a dominant force in the air. And although John Terry seems to be back from injury, Zouma and Cahill's great performance against Tottenham should guarantee both of them a spot in Saturday's match.
Left Back – César Azpilicueta
Chelsea's best and most consistent defender in the current season, didn't have his best game against Tottenham but defended well nonetheless. He was also present in Chelsea's attacks and kept a perfect balance between a defensive and offensive style of play. So it seems like his name will be one of the first on Chelsea's team sheet.
Central Midfielder – Nemanja Matić
Matić didn't have the greatest start against Tottenham and even struggled in some scenes, but after a little while, he slowly found his feet and started to perform well. In a sense his performance against Tottenham was a summary of Matić's form in the current season; horrible at the start but decent now.
And although he didn't have the most convincing performance against the Tottenham Hotspurs, he should still start against Bournemouth as he is slowly gaining back his glorious form of the previous season.
Central Midfielder – Cesc Fàbregas
Speaking of bad form, Cesc Fàbregas had a huge slump in form when he started the season but has since recovered and is slowly going back to the Fabregas that the fans knew and loved. In the game against Tottenham, Fàbregas was one of Chelsea's best players on the pitch, which should guarantee him a spot in the Blues' match against the Cherries.
Right Attacking Midfielder – Willian
Undoubtedly Chelsea's best player in the current season, Willian, impressed the fans once again with his great performance against the Spurs. He was a dominant attacking force who also put down some defensive work, which once again showed that he is Jose Mourinho's ideal player. He has proven to be Chelsea's main man, so his name will probably be one of the first on Chelsea's team sheet ahead of the match against Bournemouth.
Left Attacking Midfielder – Kennedy
Chelsea's 19-year-old Kennedy hasn't got much of playing time, but when he has played, he has impressed for the Blues. He is a massive talent who could help Chelsea if he starts against Bournemouth.
Striker – Remy
Even though Jose Mourinho sidelined Diego Costa, he still didn't play Remy as a striker. This came as a shock to many who were waiting for Remy to have his big moment. So it would be great if Jose Mourinho would finally give Remy a chance to prove himself.
Striker – Eden Hazard
Hazard's start to the 2015/16 season was disastrous, but he seems to be finally getting his form back, as he was a constant threat in the "False 9" position against Tottenham. So it would make sense for him to start for Chelsea against Bournemouth.
(4-2-2-2)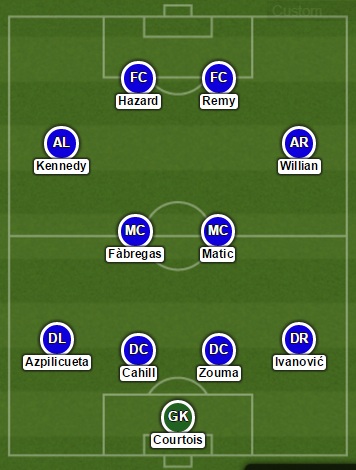 Via – Lineup Builder