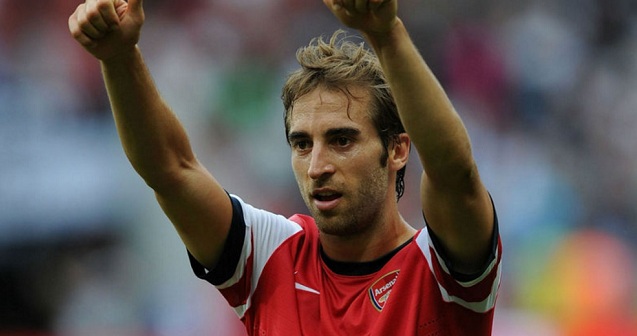 Arsenal face Sunderland at the Emirates on Saturday in what can be described as a must win match.
Arsenal has failed to secure three points in the Premier League since their 3-0 win against Swansea City on October 31st. The poor string of results and the growing list of injured players are creating a somber mood at the Emirates. Although the club is still a few points from the top of the table, winning three points on Saturday is a must.
Arsenal will be without the services of Santi Cazorla and Alexis, who were both injured against Norwich. With an injury list that accounts for ten senior players, Arsene Wenger has little wiggle room in terms of squad selection.
The good news is that Kieran Gibbs, who missed last weekend's game to injury, will be back on Saturday. Laurent Koscielny, who was replaced after 10-minutes last weekend, and Theo Walcott, who has been out since October, could also be this weekend, albeit from the bench.
Regardless of the injuries, the players that are healthy this weekend are good enough to get the job done, and anything but a win will be disappointing for Gooners.
Here is Arsenal's most probably lineup on Saturday.
 Goalkeeper – Cech
Petr Cech continues to show excellent form in goal. He made an exceptional save last weekend on a cross that deflected off Gabriel. No other keeper in the squad could have made that save.
https://www.youtube.com/watch?v=yTWA6vdEXQU
Right Back – Bellerin
Hector Bellerin has not quite found the form he exhibited prior to his injury a few weeks back. His place is not in jeopardy though.
Mathieu Debuchy could find himself in the starting eleven at some point this month. Bellerin will need a rest during the Christmas break and the Spaniard may be asked to play a more advanced role in light of injuries up front. If Wenger is forced to make that decision, Debuchy will fill in at right back.
Center Backs – Mertesacker & Gabriel
Koscielny has an outside chance of playing on Saturday but considering this is not the first hip injury he's had this year, Wenger is not likely to take chances.
Gabriel will partner with Per Mertesacker in the absence of Koscielny. Gabriel is one of the best third choice center backs in the league.
The Brazilian played all but the first 10-minutes last weekend against Norwich. He played well, but should have done better during Norwich's goal. He allowed Lewis Grabban too much space in the box, and the striker turned easily to slot past Cech.
Left Back – Monreal
Nacho Monreal has been the model of consistency this season.
Gibbs will get a chance in the starting eleven this month, but not in his usual left back spot. He will likely be asked to play in a more advanced wide position in the absence of a number of midfielders.
Defensive Mid – Flamini
Mathieu Flamini has played well enough in the two matches since Francis Coquelin was hurt. All that can be asked of Flamini is that he continues to steady the ship and not play outside of his abilities.
Calum Chambers played the full 90-minutes as a defensive midfielder for the Under-21 side against Brighton & Hove Albion on Monday. Under-21 manager Steve Gatting was pleased with Chambers' contribution in midfield and the youngster seems set for a run in that position this month.
Central Mid – Ramsey
Aaron Ramsey returns to his favored central midfield role. There is little difference in the quality that Arsenal loses between Ramsey and Cazorla. Ramsey did score 16 goals for Arsenal in this position during the 2013/2014 season.
The two are very different in playing style and the squad will have to adapt a bit in the next few matches.
Attacking Mid – Özil
The absence of Alexis and Cazorla places a lot of pressure on Mesut Özil to perform. His form has not been an issue this year but he had developed an excellent relationship with both players and will now have to adapt without them.
Ramsey's best form for the club coincided with Özil playing in front him, feeding the Welshman the ball when he made those daring runs from deep in midfield.
Wide Right – Campbell
Joel Campbell found himself on the bench last weekend after an excellent display earlier in the week against Dinamo Zagreb. He could find consolation in the fact that he was the first attacking player off the bench ahead of Alex Oxlade-Chamberlain.
With the injuries continuing to pile up, Campbell's run in the first team looks to be extended.
Wide Left – Oxlade-Chamberlain
Oxlade-Chamberlain comes in to replace the injured Alexis. The Ox's direct dribbling and pace is similar to that of Alexis. In terms of type of player, this is a like-for-like replacement.
What Alexis has in scoring touch and confidence, Oxlade-Chamberlain is lacking. Health permitting, a prolonged run in the squad could see the Ox gain confidence and discover a scoring touch.
Striker – Giroud
Although his scoring record is decent, Olivier Giroud has had trouble making an impact in open play the past few matches. You cannot fault his effort but he is showing signs of fatigue and could use a rest.
Walcott could return to the squad and may feature on the bench against Sunderland this weekend. Wenger must be careful with Walcott's playing time because another injury to the Englishman will not only damage Walcott, but will also damage Giroud.
(4-2-3-1)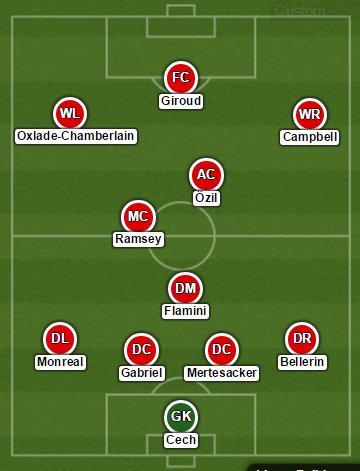 Via – Lineup Builder