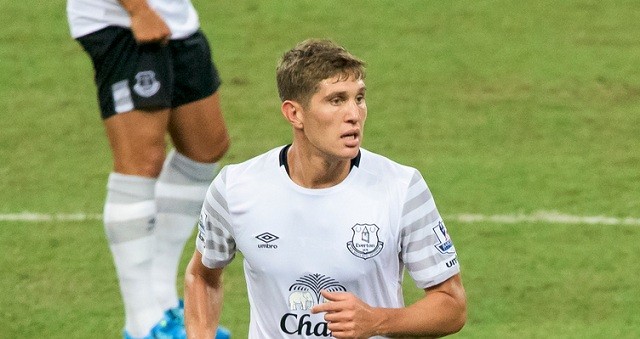 While Laurent Koscielny and Per Mertesacker have been playing good football as of late, the age and depth of the Arsenal centre-backs is something that needs to be addressed sooner rather than later. Gabriel Paulista has proven to be a quality signing as he has been very viable when called upon, but beyond him there isn't really anywhere to turn. Youngster Calum Chambers may be an option in the future but he still needs to be developed before he can be trusted in the Arsenal starting lineup.
According to Metro, Arsene Wenger has told the Arsenal board of directors to do whatever they can to complete the signing of rising superstar, John Stones. Everton have their centre-back valued at £45 million, which is understandable due to his quality, age, and nationality. The fee to keep young English talent in England has proven to be steep and will continue with John Stones.
Chelsea tried hard to land the Englishman over the summer transfer window, to no avail. It was rumored that the Blues offered £37 million to Everton, but they wouldn't compromise on their evaluation.
This means that it shouldn't change in January and if Arsene Wenger wants his signature, he will have to give the Toffee's their asking price. This idea especially seems like it will hold up due to Everton's recent good form which would further trigger their reluctance to sell.
https://www.youtube.com/watch?v=FfbA15gX3sc
Arsenal boss Arsene Wenger has had a reputation to being reluctant to spend cash in the past, but the signings of Alexis Sanchez and Mesut Oezil work to disprove that notion. Most Gunners would say that a defensive midfielder or an additional striker would be a greater necessity, but with Koscielny and Mertesacker already over the age of 30 and Gabriel and Chambers unproven, a great reinforcement in Stones may be the right move to make.
John Stones is one of, if not the most promising young defender in all of football and his name will be a very hot topic until he leaves Everton. Barcelona have reported interest in the 21-year-old but with their recent financial struggles make a transfer to the Catalan Club unlikely. Someone soon will obtain the services of Stones, and Arsenal would be keen to make him their own.