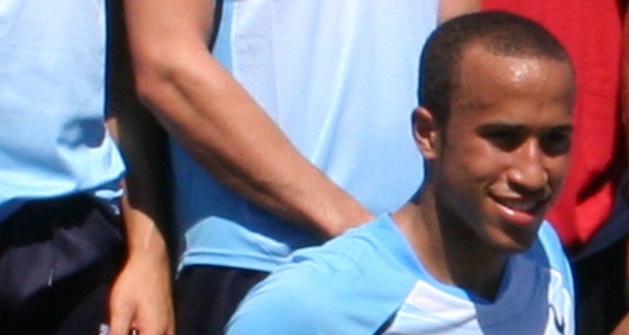 The fall from grace for Tottenham winger Andros Townsend continues as the winger recently hit a new low. This past week the Englishman was demoted to Tottenham's U-21 side as they took on Middlesbrough U-21s. This is just one more step that almost certainly confirms that Townsend will be parting from White Hart Lane in January. He hasn't seen first-side football since playing Anderlecht in the Europa League on Oct. 22.
Instead of being recognized for his skill with the ball and pace, Townsend is mostly recently known for getting into it with Tottenham fitness coach Nathan Gardner during warmups against Aston Villa on Nov. 2nd. He was becoming an unused substitute and Gardner was urging him to work harder. Townsend can be seen during the heated exchange shoving Gardner in the chest.
Since then, he has lost favor and was exiled by manager Mauricio Pochettino from the first squad and there now seems to be no way back up the ladder. Townsend even lost his place in Roy Hodgson's England squad.
He wants out of White Hart Lane in January to win back his international spot in time for next summer's Euro 2016 finals.
After the altercation earlier this month between Townsend and Gardner, Pochettino had this to say about it.
"When there is an action, there is a consequence," Poch said.
"You behave in the wrong way you always need to pay. We have a young squad and the player made a mistake, and when you cross the limit it is important to stop that.
"I am a very friendly but discipline is very important to me. The staff need to show respect to the player and the player needs to show respect to the staff."
The outcasting of Townsend to the U-21s just shows that there must be something really wrong with his attitude if Poch has resorted to this. Townsend is for sure gone in January, and I hope he finds success at whichever club lands his services.
Swansea, Aston Villa, West Brom, Leicester and Newcastle are among the Premier League Clubs that are currently linked to Townsend.