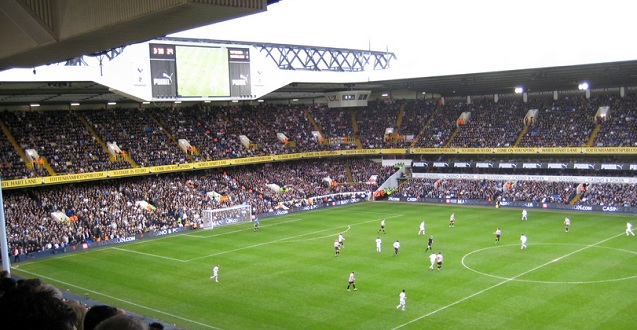 The square off between Tottenham Hotspur and Chelsea may be one of the hardest games to predict this season. Every game, you have to believe that Chelsea is going to return to their previous form. Winning three of their last four and having Eden Hazard perform better with each match, Tottenham supporters must have a lot of doubt coming into this weekend.
Tottenham are fresh off a Thursday win all the way in Azerbaijan and have to travel back across Europe for their biggest match until the new year.  With Dele Alli out due to suspension (5 yellow cards) and the short break between fixtures, it will be a tall order for Spurs.
Defense
The seemingly unbreakable Belgians Toby Alderweireld and Jan Vertonghen will start in the center surrounded by Kyle Walker on the right and Danny Rose on the left.
Midfield
Just ahead of the back-four will be the aggressive Eric Dier. Do not be surprised to see Diego Costa and Dier causing a stir as their attitudes do not blend well.
Mousa Dembele will be settled just ahead of Dier, but still settling mostly in the holding midfield role. Dembele has physically dominated opponents as of late, but he might have trouble with some of the pace that Chelsea provides.
Christian Eriksen has been forced to drift on the left side of the pitch with the emergence of Alli, but on Sunday he will return to his traditional number 10 role.
Erik Lamela will return to the right wing. His energy and new found grit will be very helpful to team having played two days prior.
Son Heung-Min will be playing a combination of forward and left-wing at the Lane. Son will likely come out of the lineup upon Alli's return, but will have a huge opportunity to make a statement at home.
Striker
Jamie Vardy aside, Harry Kane has been the most dangerous striker in the English league. With 9 goals in his last 6 games, Chelsea will have their hands full.
(4-2-3-1)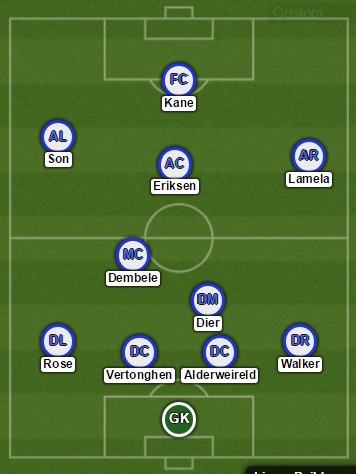 Via – Lineup Builder