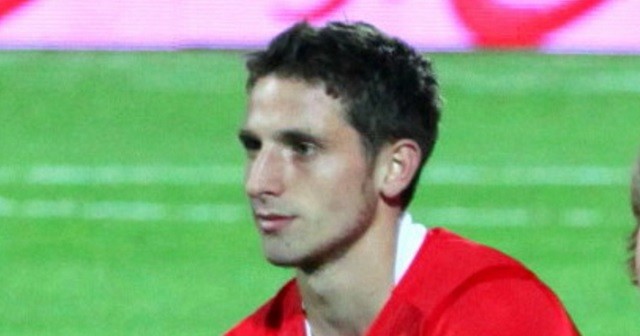 A 2-1 victory over Bordeaux in the Europa League gives Jurgen Klopp and Liverpool five wins in their last six matches. They have a perfect opportunity to keep the winning going with a match against Swansea City in Anfield this Sunday. Swansea have not won a match in November and the momentum that Klopp and his squad have built up the last two matches should lead to three points.
Goalkeeper
Simon Mignolet was not at his best against the French side when his mental error allowed them to get a free-kick inside the penalty box that they scored easily. Those types of errors are unacceptable and he cannot make those same mistakes against a much more capable Swansea team.
Right-Back
Nathaniel Clyne will have yet another difficult assignment if the tricky Jefferson Montero starts across from him. Clyne has proven that he can lock down even the most fearsome attacking players in the Premier League but he will have to make sure that Montero doesn't get into dangerous positions around the Liverpool penalty area.
Center-Backs
Martin Skrtel and Dejan Lovren should have a relatively easy time against Swansea this weekend, the opponents have had a hard time creating scoring chances and Skrtel is coming off a fantastic performance in his last appearance. Lovren has been better in recent matches and his confidence should be increasing after a few good displays.
Left-Back
Alberto Moreno has found his place on the team after beginning the season on the bench and it looks like he will remain starter for the rest of the year. He will have to make sure that Andre Ayew, Swansea's leading scorer, doesn't get into position to take a shot.
Midfield
With Lucas Leiva suspended for the match, Joe Allen will likely start alongside James Milner and Emre Can. The three of them will have to work together to shut down Gylfi Sigurdsson since he is another dangerous Swansea player.
With Jordan Henderson almost ready to return to the squad, Milner will have to prove that he deserves to remain a starter since he hasn't been the most effective player during his time at Liverpool.
Right Wing
The hard-working Adam Lallana is still searching for that breakout game but with the rest of the team hitting their stride at the right time, he just has to stick with doing what he does best. His passing and experience are always a welcome plus to the starting lineup and he is a better fit on the frontline alongside the two Brazilians.
Forward
Roberto Firmino scored his first goal for the Reds against Manchester City and he looked extremely comfortable in the central role. He ran all over the pitch and his intelligent movement opened up a lot of space for his teammates. While Firmino is not the most clinical finisher in the world, he gets into good position and his playing style is much more dynamic than Christian Benteke's.
Left Wing
Philippe Coutinho's almost telepathic connection with Firmino is something that Klopp should take advantage of this weekend as well. The two Brazilians move around the pitch seamlessly and their creativity is second to none. Coutinho seems to be rejuvenated after the international break and the team seems to be rallying around his newfound energy.
(4-3-3)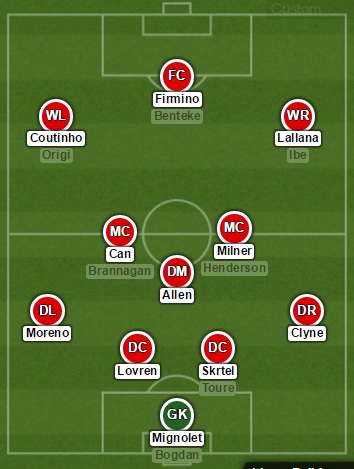 Via – Lineup Builder