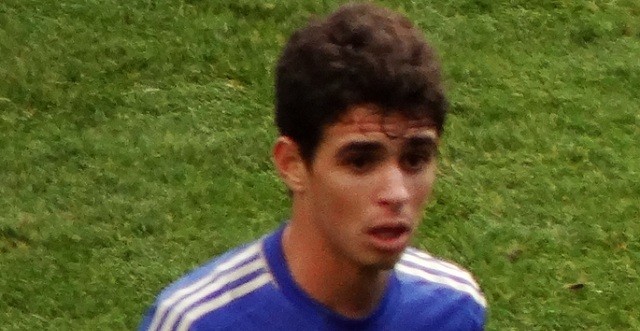 Chelsea seem to be finally getting back to their winning ways, with them getting two wins in a row, and the players slowly crawling out of their terrible form.
However, not everyone is convinced that the Blues are back on form, as they think that both of Chelsea's wins have been against much weaker teams (Norwich and Maccabi Tel-Aviv). So a win against Tottenham Hotspur (who have been on a fantastic form) could prove the naysayers wrong and show that Chelsea are truly back to their ideal form.
Goalkeeper – Asmir Begovic
Begovic is a decent goalkeeper, but nothing spectacular. However, Chelsea need to use him, as he is their only available world-class goalkeeper (with Courtois being injured).
Right Back – Abdul Rahman Baba
His great performance in the Champions League against Maccabi Tel-Aviv, showed that he should be a regular starter for Chelsea in the right back position. He was solid when defending, and exceptional when attacking; which resulted in him assisting Chelsea's third goal with a pinpoint cross which was headed in by Oscar. So naturally, he seems like the best choice to start in Chelsea's troublesome Right Back position.
Central Defender – Gary Cahill
With John Terry injured, it seems like Gary Cahill will take hold of his position. He has been on a great form in his recent games, with him even scoring Chelsea's first goal vs. Maccabi Tel-Aviv, so it seems like his name would be one of the first on the teamsheet.
Central Defender – Kurt Zouma
Kurt Zouma is Chelsea's other Central Defender who scored against Maccabi. He is finally pushed back to his actual position and has showed us once again that he is an incredible player when he plays as a Centre Back.
Left Back – Cesar Azpilicueta
Chelsea's best defensive player in the current season is still going strong and has had a good run of form. So naturally, it seems like he would be one of the first names on the Blues' teamsheet.
Central Midfielder – Cesc Fabregas
With Ramires injured, Fabregas would be the best choice to play in the heart of the midfield, and help Chelsea's attackers with his pinpoint passes. He is slowly going back on form too, which is a great news for the Blues who have patiently waited for him to make a comeback.
Central Midfielder – Nemanja Matić
Matic is another Chelsea player who is slowly getting back on form, with him showing some flashes of brilliance against Norwich and Maccabi. He protects Chelsea's defenders, and pushes forward when he sees a golden "attacking" opportunity, just like he did in the previous season.
Right Winger – Willian
Willian scored his 6th direct freekick goal for Chelsea to show once again that he is Chelsea's best player in the current season. He is currently leading "2015/16's Top Free-Kick Takers in Europe" with 6 goals from the free-kick spot. So there is no question that Willian will be starting for Chelsea against Tottenham.
Attacking Midfielder – Oscar
Oscar had a great game against Maccabi, with him scoring a goal and giving an assist to gain back Jose Mourinho's trust. So with Ramires injured and Fabregas playing deeper, Oscar looks like the best choice for the Central Attacking Midfielder position.
Left Wing – Pedro
Hazard has disappointed the Blues once again after his lackluster performance against Maccabi Tel-Aviv, and was replaced by Pedro (in the 70th minute) who looked much better, showing that he should start in Chelsea's clash vs. Tottenham Hotspur.
Striker – Loïc Rémy
With Costa underperforming (once again), Rémy should finally get the chance to play for 90 minutes. He is fast, physical, and a big threat up front, so it would make the most sense to use him instead of the constantly frustrated Diego Costa, who has suffered a major slump in form.
(4-3-3)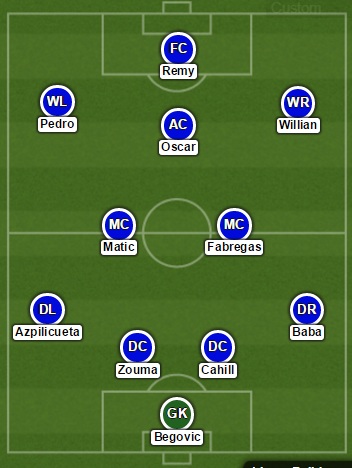 Via – Lineup Builder