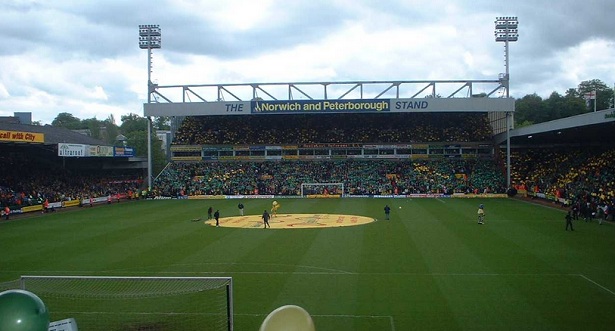 Arsenal and Norwich face off at Carrow Road on Sunday.
Arsenal's last match in the Premier League was a 2-1 away loss to West Brom. It was a disappointing result that was worsened by the news that Francis Coquelin will miss the next three months of the season.
Arsenal responded with an impressive 3-0 win side in the Champions League midweek against an unimpressive Dinamo Zagreb. Tuesday's match also saw the return of Aaron Ramsey, which couldn't come at a better time considering Coquelin's injury.
That's not to say that Ramsey is an immediate replacement for Coquelin. However, the Welshman's return allows Arsene Wenger to tinker with his squad and recreate the right balance, like he did in early January this year when we first saw the Coquelin and Santi Cazorla partnership.
In other team news, Alex Oxlade-Chamberlain is back in training. Wenger could not give a guarantee that Oxlade-Chamberlain would feature against Norwich, however, he is expected to make the bench.
Wenger also revealed that Alexis felt tightness in his hamstring after Tuesday's match, but that the Chilean's recovery ability should see him start once again.
Despite the returns of Ramsey and Oxlade-Chamberlain, Wenger will not be able to rotate too much due to the additional injuries of Coquelin and Mikel Arteta.
Here is Arsenal's most likely lineup on Sunday.
Goalkeeper – Cech
Petr Cech had very little to do on Tuesday. He did pull off a sublime save from a clearance that ricochet of Mathieu Flamini, which saw the ball head directly for the bottom corner. Cech showed great awareness and reflexes to push the ball away.
Right Back – Bellerin
Hector Bellerin continues his return from a groin injury. He looked better on Tuesday and improvement should once again be expected on Sunday.
The return of Ramsey will likely see Bellerin once again be a dangerous threat down the right flank.
Center Backs – Mertesacker & Koscielny
Per Mertesacker and Laurent Koscielny will resume their partnership on Sunday. They looked good on Tuesday, although they did not have much to do. They face a sterner test in the Premier League on Sunday.
Left Back – Monreal
Nacho Monreal showed great offensive and defensive awareness to intercept a pass in Dinamo Zagreb's box and then lay the ball off to Alexis who slotted the ball into a half empty net.
Like the center backs, Monreal had little to do defensively and will face a more difficult challenge on Sunday.
Defensive Mid – Flamini
Flamini started here on Tuesday and played well enough to warrant a second look on Sunday. His form has not been spectacular this season and he has clearly lost some pace. However, his experience is invaluable and he is still a better option than Calum Chambers.
Wenger explained his reluctance to play Ramsey in such a deep role. He made it clear that Ramsey's strengths are more valuable up the pitch and that playing him deep would be a hindrance to the team.
In Coquelin's absence, Flamini and Chambers will be the two players that Wenger will look to.
Center Mid – Cazorla
Cazorla will miss Coquelin playing next to him because his French teammate's ability to cover ground side to side allowed the Spaniard to flourish in a freer role. Now with Flamini next to him, his defensive responsibilities increase and the onus falls on Ramsey and Mesut Özil to create even more.
We are going to see an adaption period for the next few weeks where Cazorla could struggle. But, he is an intelligent player and will quickly develop an understanding with whomever Wenger decides to play next to him.
Attacking Mid – Özil
Özil was masterful on Tuesday. He opened the scoring with a diving header and almost added a second to his tally with a lob-header that just missed the post.
Özil has shown more willingness to get into good positions in the box, something that Wenger touched upon after Tuesday's match.
The German is in great form and will be a constant threat on Sunday.
Right Wing – Ramsey
Ramsey came on in the second half against Dinamo Zagreb and looked fairly sharp for a player who has missed nearly a month. Arsenal missed his presence on the right and we should now see a more dynamic Arsenal team.
Left Wing – Alexis
Despite Alexis' hamstring tightness, he should once again start. After this weekend's match he will have a weeks rest for the first time in about three weeks.
Alexis usually scores in bunches and his brace on Tuesday may be a sign of things to come on Sunday.
Striker – Giroud
Olivier Giroud had a quiet game on Tuesday but his movement around the box was impressive. Giroud made an excellent run across the box for the first goal on Tuesday. He drawing defenders away from the center of the box, which allowed Özil to run freely and finish with a placed header.
Wenger removed Giroud in the second half because the striker had picked up a small ankle injury. There is no concern about Giroud's fitness though and he will start on Sunday.
(4-2-3-1)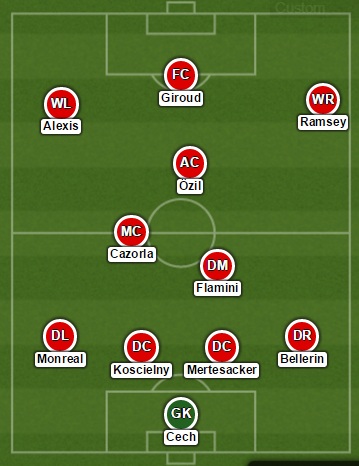 Via – Lineup Builder