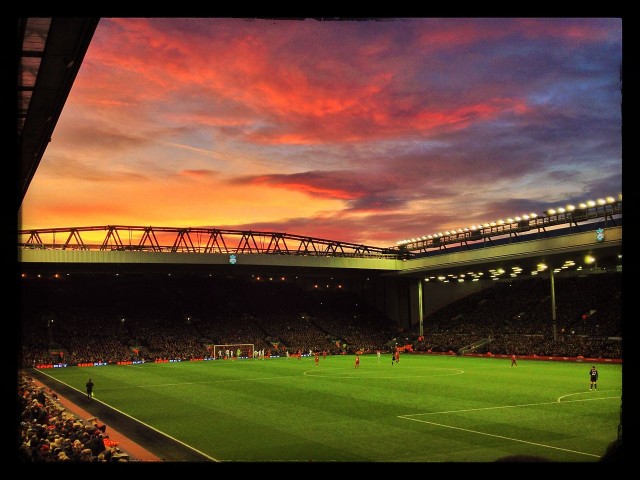 With a 4-1 victory against Manchester City, Jurgen Klopp and Liverpool are coming off their biggest and best victory this season. They now face Bordeaux in the Europa League before their weekend clash against Swansea. This match against the Ligue 1 side is important given that the team needs to avoid a let down after the big win and it is a perfect chance for a few players to prove themselves to the manager.
Goalkeeper
Simon Mignolet should have a relatively easy match given the lack of quality in the Bordeaux attack but as usual, he can't lose focus.
Right-Back
Connor Randall has been a consistent presence on the Liverpool bench this season and Klopp may reward the youngster with a start. This is a perfect opportunity for Randall to get some experience against a top-level team, despite their current place in the Ligue 1 table.
Center-Back
While a Kolo Toure and Dejan Lovren partnership doesn't inspire a lot of confidence in Liverpool fans, they should be able to hold the French attack at bay for a full match. They have enough experience and skill between them to control the match and stop any Bordeaux attack before it gets going.
Left-Back
Alberto Moreno should continue to start with nobody able to provide cover. He continues to improve incrementally this season and the pressing style that Klopp has implemented suits the Spaniard's strengths.
Midfield
A hard-working midfield composed of James Milner, Joe Allen and Emre Can should have enough quality to dominate the middle of the pitch against Bordeaux. Milner continues to be a less-than-stellar player for Liverpool but he is still someone who has all the intangibles.
While Allen is not a perfect replacement for Lucas Leiva, he is a bench player who knows his role and never tries to do more than he is capable of. Can has been playing a lot of minutes this season but he still has not had a breakthrough performance, hopefully he has one on Thursday.
Right Wing
Jordon Ibe has been a regular player during the non-Premier League matches and he should get another start this Thursday. He seems to be a different player under Klopp and this new-found confidence should lead to more than a few fantastic performances for the rest of the season.
Forward
Christian Benteke came on as a sub against Manchester City and he should be healthy enough to start against the French side. This is the perfect game for Benteke to get his rhythm back especially since the opponents have a weak defense. Benteke's physicality and clinical finishing should lead to another exciting match for Liverpool fans.
Left Wing
Adam Lallana has been a solid, if unspectacular performer this season but he is still a valuable player given his strong work rate and willingness to allow his fellow players to work their magic. Look for him to pressure the opposing team all over the pitch which should lead to a few chances for Liverpool to score.
(4-3-2-1)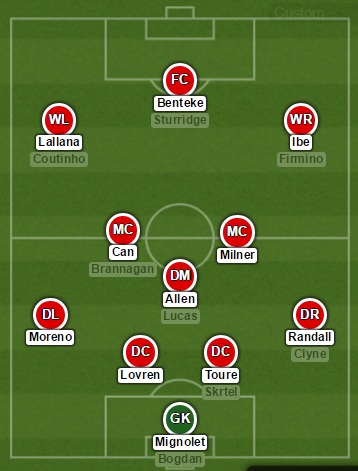 Via – Lineup Builder