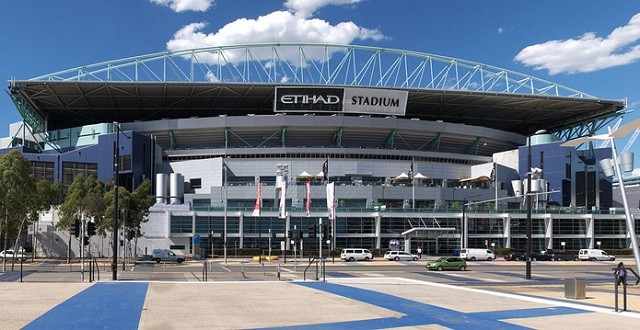 Final Score: Man City 1 – 4 Liverpool
Competition: Premier League
Date: 21 November 2015
Stadium: Etihad Stadium (Manchester)
Liverpool's Starting XI
22 Simon Mignolet: 7.5
Liverpool shot-stopper's goalkeeping was impressive on Saturday evening.
2
Nathaniel Clyne: 6
The England international had made several sloppy passes and was in fairly a bad form comparing to his excellent performance in the previous games.
37 Martin Skrtel: 8.5
Although Skrtel was partially responsible for Sergio Agüero's goal, but his overall defensive display was brilliant and his superb goal in 81st minute helped the Reds truly put the game to bed.
6 Dejan Lovren: 6.5
The Croatian was still a bit nervy and shaky from time to time.
18 Alberto Moreno: 7
Moreno accomplished his task as left-back adequately.
7 James Milner: 7
Liverpool's current captain put in a fine performance at both ends.
21 Lucas Leiva: 7.5
The 28-year-old was reliable as always this term.
23 Emre Can: 7
Liverpool midfielder made an excellent backheel pass that led to a fantastic team goal, but he also gave away possession easily in the game.
10 Philippe Coutinho: 8.5
The Brazilian was absolutely the core of Liverpool's offense and always a joy to watch.
11 Roberto Firmino: 7
The former Hoffenheim forward had some fantastic moment in the early stages of the game, but he wasted too many chances after netting his first Premier League goal this season.
20 Adam Lallana: 7
Lallana's link-up play with Liverpool's attackers was successful and effective.
Substitutes
9 Christian Benteke (↑77′): 5
Liverpool front man showed why he didn't deserve a starting place by squandering a glorious opportunity during one counter-attack.
33 Jordon Ibe (↑68′): 5.5
The youngster provided energy for the Reds coming off the bench, but his horrible handle of one highly promising counter-attack still showed his immaturity and lack of class.
Manchester City's Starting XI
http://www.gettyimages.com/detail/news-photo/sergio-aguero-of-manchester-city-shakes-hands-with-manuel-news-photo/498179018
1 Joe Hart: 7
Joe Hart's excellent performance was what kept Manchester City's hope alive for the majority of the game.
3 Bacary Sagna: 5
The former Arsenal full-back's poor defensive display was accountable for the humiliating result.
20 Eliaquim Mangala: 4
Manchester City defender was completely lost after making a terrible own goal. His performance was a nightmare for himself as well as his side.
26 Martín Demichelis 4.5
The Argentine's poor positioning was brutally exposed and exploited by the Reds.
11 Aleksandar Kolarov: 6
Kolarov made fine contribution on the offensive side, but he could have done better defensively.
6 Fernando: 5.5
The Brazilian failed to provide more protection for the backline of Manchester City.
17 Kevin De Bruyne: 6.5
Manchester City playmaker remained a threat to Liverpool's defense throughout his 90 minutes.
42 Yaya Touré: 5
The high-profile midfielder was almost invisible in the game and was substituted in the second half.
7 Raheem Sterling: 5.5
The former Liverpool winger failed to deliver his dangerous pace against his old club.
15 Jesús Navas: 5
The Spaniard's performance was fairly forgettable.
10 Sergio Agüero: 7.5
The Argentina international was world class as always. His stunning goal made people wonder is there anything he can't do on the pitch, but fitness was still his biggest enemy.
Substitutes
25 Fernandinho (↑45′): 6
Manchester City midfielder was certainly an improvement for the defense of his side.
18 Fabian Delph (↑45′): 5.5
The England international was working hard coming in the second half, but sadly no more than that.
72 Kelechi Iheanacho (↑66′): 5
The young striker had been a bit wasteful and failed to continue his previous good form.