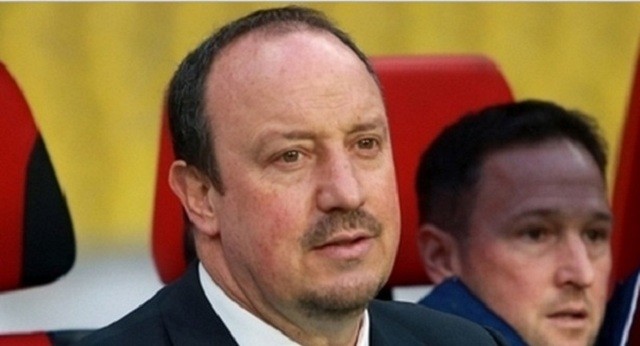 Real Madrid have suffered their second consecutive loss and now must look at the Champions League. They must visit Shakhtar in Ukraine to get past this negative streak. The rival shouldn't be underestimated, as they can be very complicate, especially at home. While they are already qualified for the next round, a convincing win is the only way Real can calm things down.
Preferred Formation: 4-2-3-1
Rafa Benítez has received a lot of criticism since the Barcelona debacle. It's clear that the flaws that were apparent at the beginning are no longer invisible. Since the team isn't winning anymore, the priority is fixing these mistakes and a change of system might be a viable solution. For now, it seems he will stick with his usual idea. Time will tell if this was the right thing to do or not.
GK: Keylor Navas
He conceded more goals on Saturday than he did in all matches prior to that. His confidence may be damaged and it's time to encourage the keeper. The team knows his capabilities and unifying the defense is the way to go.
Defense
RB: Dani Carvajal
Danilo like the rest of his teammates in the back had an atrocious day. As Carvajal is fully recovered, he'll probably one of few changes the manager can make to correct his errors. Dani is a safe bet for this one.
CB: Pepe
Sergio Ramos has come to a full stop, as he will stay away until he fully recovers from his shoulder injury. He's been avoiding these problems and it hasn't done him well. The Portuguese will return to a starting role.
CB: Raphaël Varane
The Frenchman was also terrible at the Bernabéu, yet his speed and aerial talent are something the team can't afford to bench. He's shown more stability than Ramos and there are no more options available.
LB: Nacho
Like the captain, Marcelo will be absent on Wednesday. He'll most likely be away for two or three more weeks. Because of the lack of natural replacement for the Brazilian, Nacho will be the chosen one once again. Arbeloa may be the surprise.
Midfield
RCM: Luka Modrić
Out of him and Kroos, the Croatian is less to blame for Saturday's catastrophe. Even though Benítez could risk it all and have both Kovačić and Casemiro, it seems Luka will stay in the starting lineup.
LCM: Casemiro
Fans and critics were shocked that Casemiro wasn't picked for El Clásico. With him, the team is more balanced and stronger in the midfield. He'll become a staple from now on during the complicated matches.
Attack
RW: James Rodríguez
Out of all the players in the front, he was being the best one against Barça. Despite this, he was subbed before he could keep contributing to the team. Isco did no better than him, so the Colombian will be present.
CAM: Gareth Bale
His performances have been very disappointing this year. The BBC haven't been able to replicate their 2013-14 campaign and have become disconnected. The Welsh shouldn't get too comfortable, as his coach could get tough and start benching him.
LW: Cristiano Ronaldo
As it's become the rule in recent seasons, he wasn't able to be the leader the team needs in tough games. His numbers may be decent, still they're not enough to be on par with his best version. He must step it up greatly.
ST: Karim Benzema
He definitely did the best he could against the fiercest rivals. Like the rest of the BBC, a drastic improvement should come immediately. The trio is being targeted so goals and good performances can help make that go away.
(4-2-3-1)