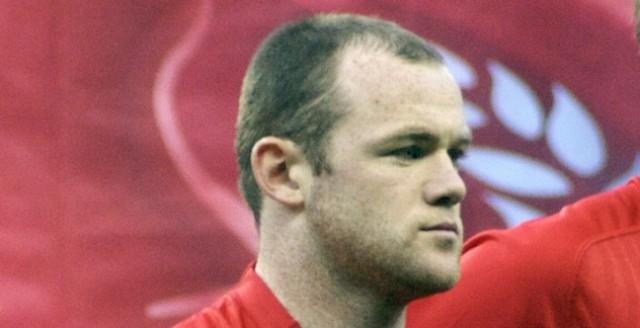 United need to win one of their remaining two matches in the Champions League to qualify for the Round of 16. United's only loss in the group stage has been at the hands of PSV in September. United are fresh off a thrilling win against Watford, but with plenty of injuries, the starting XI will need to bring their best to Old Trafford on Wednesday.
Goaltender
David De Gea won man of the match vs Watford this weekend after some splendid reaction saves and control. His plays extends confidence throughout the back line and the spaniard will look to shut the door again at home.
Defense
With Phil Jones injured again, Daley Blind will return to just to the left of Chris Smalling at Center Half. Marcos Rojo has done fine defensively at left-back and will likely get the start.
Matteo Darmian has been in a lull in comparison to his aggressive start to the season. It would not surprise many if he had been fighting a small knock, but after all this time, I expect Louis Van Gaal to insert him back into the lineup. He will play right-back so that Ashley Young can be used as a necessary offensive substitute.
Midfield
Due to the abundance of injuries and (now) lack of depth, Bastian Schweinsteiger and Morgan Schneiderlin will be placed in the holding midfield roles. Schweinsteiger knocked in his first of the season (despite being labeled as an own goal) which might inspire the 31 year-old German to move up and take a few more efforts goalward.
Jesse Lingard has had moments of brilliance and blunder in each game he has started; however, he provides a pace that United crave. He will continue to start into the weekend on the right-wing.
Memphis had a brilliant finish early in the game against Watford. Under these circumstances he will be best served as a left-winger if Rooney returns to the lineup.
Juan Mata has been a non-factor in string of games. If it weren't for so many injuries, he might have been left on the bench this week. Playing in the 10 role will give him a better opportunity to make his intricate passes to the speedy wingers.
Forward
Wayne Rooney may remain ill, but the stakes of this game, the United leader will want to make an appearance. However, if Martial is completely fit, he could very well end up with the start.
(4-2-3-1)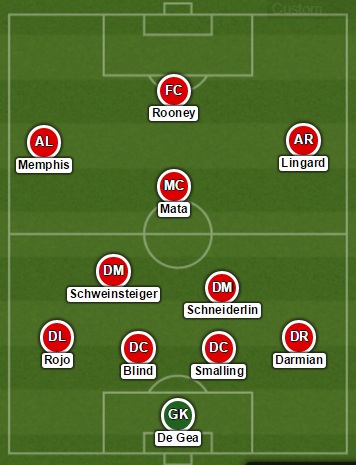 Via – Lineup Builder