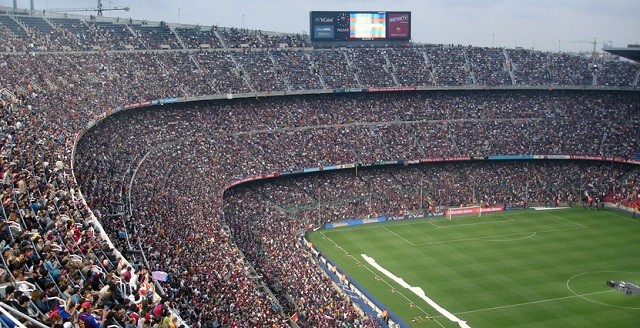 The current European champions are visited by AS Roma this Tuesday for the second time, eyeing nothing but a victory to ease them into the group stage.
Luis Enrique has played down any hype against the Roman outfit this time around at the Camp Nou after a 1-1 draw in their first qualifying match in mid-September, phrasing there is still much of the season left and anything can happen. Barca are coming into their penultimate qualifier astutely, after a 4-0 master-class performance against Real Madrid, with nearly everyone fully fit.
A near equivalent side that fought against Los Blancos is rumored to be already formed for the Champions League matchup.
Defense
Marc-Andre Ter Stegen has massive shoes to fill as a stellar performance by Claudio Bravo against Real showed the best out of the Chilean goalkeeper this season. The Catalunya faithful will watch with baited breath if Ter Stegen steps off his line.
Jordi Alba is at left-back, with the center-backs being Gerard Piqué and Jeremy Mathieu. Opting for the Frenchman who played as an excellent substitute to Javier Mascherano against Madrid.
Marc Bartra or Sergi Roberto could possibly replace Dani Alves at right-back. (Statistics show that Dani Alves' tackles has been 37% successful in all competitions, which isn't ideal).
A fine defender in all other aspects, AS Roma has tenacious, quick footballers like Salah, Iturbe, Florenzi and Nainggolan, all who are capable of scoring and creating loads of chances.
It's good to shut down these players with pace and marking ability, which Bartra and Roberto possess a bit more than the 32-year old. I prefer Bartra over Dani Alves but the Brazilian will likely prevail in the starting eleven.
Midfield
A prolific midfield was one of the beneficial factors in the 4-0 away win at the Santiago Bernabeu. Ivan Rakitic, Sergio Roberto and Andres Iniesta are sure to start against Roma.
Offense
Neymar added another goal to his tally recently and will look to take up a creator role in the 18-yard box for lethal center-forward Luis Suárez and Lionel Messi.
(4-3-3)
Via – Lineup Builder