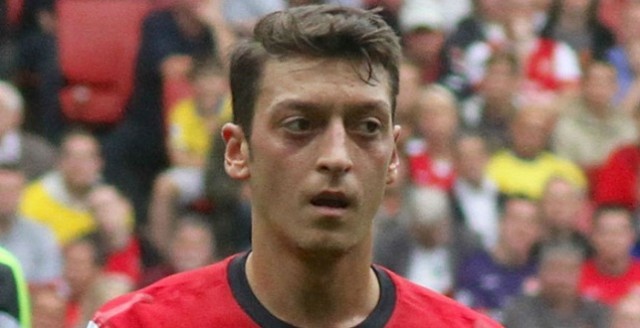 Arsenal faced West Bromwich Albion in a game they expected to receive the full three points. However, the game got off to a rough start for Arsenal as Francis Coquelin was forced to come off the field in the 14th minute due to an injury.  He was replaced by Mikel Arteta who would have a huge impact on the match.
As usual Arsenal was in control of possession early in the match against West Brom.  Then in the 28th minute Mesut Ozil hit a free kick that deflected off the head of Olivier Giroud and found it's way past the keeper to give Arsenal a 1-0 lead.
It looked like Arsenal had command of the game, but West Brom quickly responded.  Mikel Arteta committed a foul that led to a free kick outside the penalty area.  It resulted in an equalizing goal for James Morrison in the 35th minute.
Then to make matters worse, 5 minutes later a ball came rolling into the Arsenal six yard box, and it was deflected by Arteta into his own net.  The own goal gave West Brom a 2-1 lead going into the half, and they had somehow taken control of the game.
Arsenal came out strong in the second half.  Mesut Ozil came inches away from scoring in the 48th minute, but his shot nicked the post and went wide.  Arsenal kept the pressure coming, but West Brom played well defensively making it difficult for Arsenal to break through.
In the 67th minute Joel Campbell missed a golden opportunity when he took an open one-time strike from inside the six yard box, but shanked it wide.
Arsenal got some good fortune when Chris Brunt fouled Alexis Sanchez in the box to give Arsenal a penalty with less than 10 minutes to go in the game.  Cazorla took the penalty, but his shot flew way over the goal.  Arsenal blew another fantastic scoring opportunity.
Arsenal continued to put the pressure on in the final minutes of the match, but ultimately they came up empty.  The own goal from Arteta, and the crucial misses from Cazorla and Campbell cost Arsenal a victory.
Mesut Ozil was the player of the game for Arsenal, in what was an extremely disappointing game for his team.  Ozil assisted Olivier Giroud's goal on a free kick to give Arsenal that crucial 1-0 lead early on, and he came inches away from scoring an equalizer early in the second half.
Ozil was a catalyst for the Arsenal attack throughout the match.  He completed 92.1% of his passes to help keep Arsenal in control of possession.  He also had 7 crosses as he was able to put the ball into dangerous areas on multiple occasions.  Ozil did what he could to help Arsenal avoid defeat, but his teammates failed to support him.