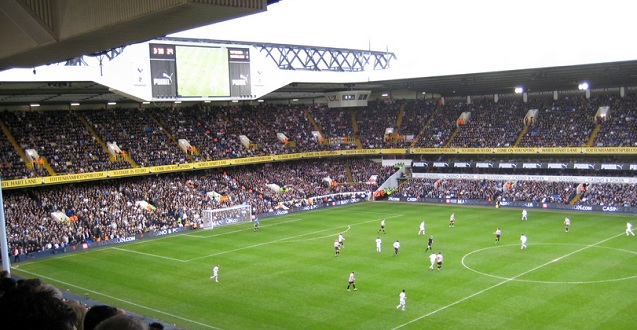 With this huge London derby set to take place this weekend between Tottenham and West Ham, here's a little more information about this anticipated match between the two London sides this upcoming Sunday at White Hart Lane and the lineup I believe Spurs manager Mauricio Pochettino will be rolling with on Sunday.
Right now both Spurs and West Ham sit at 21 points. Tottenham is ahead in the standings in fifth, West Ham respectfully in sixth. Spurs have not lost a match in 11 Premier League matches.
Both West Ham and Tottenham drew their previous matches and played to a draw the last time they played each other in February.
Tottenham midfielder Erik Lamela is suspended after picking up his fifth yellow card of the season against Arsenal earlier this month. He will not be eligible to play.
Tottenham's midfield is dealt another blow as Moussa Dembélé sustained a calf injured while training with the Belgian National Team. There's a high chance he won't be able to go on Sunday since he failed his fitness test.
There is good news coming for the Spurs' midfield as Nabil Bentaleb is back from injury and set to return to the Tottenham squad — his last match for Spurs was on Aug 29th against Everton.
West Ham will be without star midfielder Dimitri Payet who will be out for about three months with an ankle injury. Hammers' midfielder Enner Valencia has ruled out for about four weeks after picking up an injury as well.
West Ham has been phenomenal away from Upton Park this season. They've already won at the Ethiad, the Emirates, and at Anfield.
A win could push either of these teams into the top four.
Goalie: Hugo Lloris
There should be no doubt in anyones minds by now that Lloris will be the starting goalie this weekend. If you disagree, please explain to me how Michael Vorm is a better play. I'd love to hear it.
Right Back: Kyle Walker
has been healthy and is off to a great season thus far. His health concerns has always been something that Spurs fans try to put in the back of their brain, but they should be confident by now that he's fit and ready to go.
Centrebacks: Jan Vertonghen and Toby Alderweireld
These two Belgians have been absolute workhorses in the back so far this season. Alderweireld is proving what an excellent signing he was this summer for Spurs. Both of these guys have played every minute in every Premier League match thus far. Don't expect that to voluntarily change anytime soon.
Left Back: Danny Rose
The left back position this season has been a toss up between Englishman Danny Rose and Welshman Ben Davies. Rose has been getting the call recently, after Davies played most of September and August. He gets up in the attack and puts pressure on oppositions' defense. Poch should roll with Rose. Davies however is no slouch.
Defensive Midfielders
Eric Dier is coming into his own as a holding midfielder and is establishing himself as one of the rising young stars in the Premier League. With Dembélé more than likely not being able to go on Sunday, Ryan Mason will fill in for him in the starting 11, pushing Dele Alli up to centre-attacking mid. Mason is a strong box-to-box midfielder with excellent vision. The Hammers being without their creative glue in their midfield, Dimitri Payet, helps ease the load on the these two.
Attacking midfielders
Spurs' attacking midfielders will have to be at their best to crack the Irons' defense that has been sound all season. With Lamela out on suspension, Korean international Son Heung-Min looks to make his presence felt on Sunday. Both him and Alli, who will be playing in the middle, scored for their respective countries while away on international duty — Alli's goal was an absolute screamer.
Christian Eriksen will be doing what he aways does. He'll be on the left side and is always a threat to cut inside on his right foot. He's the playmaker in this talented Spurs midfield. They'll be looking to free up Kane up top and distribute the ball to Rose and Walker making those runs up the wings and creating space.
Striker – Harry Kane
That Harry Kane fellow who scored 21 premier league goals last season. Yeah it's official, he's back. The Englishman has been in great form lately scoring 5 goals in his last 3 Premier League matches. West Ham goalkeeper Adrián only has one clean sheet this season, and if Kane has anything to say about that, it'll stay that way.
What do you think Spurs' lineup will be this weekend?