Chelsea's 2015-16 Campaign in the Premiere League, Champions League, and the Capital One Cup, has been disappointing and below expectations. And with Chelsea failing in the Premiere League, the club's goal has switched from winning the BPL to staying out of the relegation zone.
However, the Blues' dark days might be over, as Chelsea's players look to be finding their previous form. Especially with Eden Hazard showing glimpses of his brilliant past self in Chelsea's 1-0 loss against Stoke.
This has given hope to the Blues, who are now expecting their players to make a big comeback. So although Chelsea hasn't had a great start and has disappointed their fans on many occasions, it is fully expected of them to win against Norwich City.
Goalkeeper – Asmir Begovic
With Corurtois being out injured until December, Mourinho doesn't have much of a choice for Chelsea's GK position, as Begovic is the only other "World Class" goalkeeper that the Blues have got.
Right Back – Branislav Ivanović
Although Ivanović had a disastrous start to the season, and was one of Chelsea's weakest players, he should still be given one more chance. This is because Chelsea fans know what Ivanović is capable of, as he was a great fullback for Chelsea in the previous seasons. So he should start, with the fans hoping that he would go back to his previous form.
Central Defender – John Terry
The Blues' captain seems to be finding his previous form as he had good games against Dynamo Kyiv and Stoke City. He is a commanding presence in Chelsea's backline, and even a shadow of his previous form could protect Chelsea's breakable defense.
Central Defender – Gary Cahill
Cahill had a good game against France and deserves a start over Kurt Zouma whose form could be affected by the recent horrific happenings in France.
Left Back – Cesar Azpilicueta
Azpilicueta has been Chelsea's best player in the backline. His great form, perfect balance of defensive and offensive work, alongside his consistency, all suggest that he should start for the Blues against Norwich.
Central Midfielder – Nemanja Matić
Although Matić has had a slump in form (like many other Chelsea players), he's still a great defensive midfielder who could bring stability to Chelsea's midfield. Chelsea fans will be hoping for him to break through his lackluster form, and to perform like he did in the previous season.
Central Midfielder – Ramires
Chelsea's engine in the midfield has an impressive workrate that is only matched by a few, so it would make sense for him to start against 'The Canaries'.
Right Wing – Willian
He is easily Chelsea's best player of the season so far, and should surely start for the Blues, as he has been on a good form and is a key member of Chelsea and Brazil National Team. He most recently shone against Peru (being a constant threat on the wings and even giving an assist to Douglas Costa).
Attacking Midfielder – Cesc Fabregas
His performance for the Spain National Team (in their 2-0 win against England) was impressive, and he seemed on good form! His brilliant cross set up Mario's wonder goal against 'The Three Lions' to show that he is ready to start and impress for Chelsea.
Left Winger – Eden Hazard
Hazard's slump in form has been one of the Blues' biggest dissapointments, as they thought that they had a future Ballon d'Or contender and one of the world's best players, but were then faced with a player who wasn't even the best in chelsea. However, things are looking better by the day, as Hazard has teased the fans with flashes of brilliance. This has made many Chelsea fans hope for Hazard to get back on form, and perform as well as he did before.
Striker – Diego Costa
Chelsea's main threat up front hasn't been doing too well for his club and country, but should be given a chance to shine against a weaker side. Like many others, his name is also included in Chelsea's never ending list of players who lost their previous form, but it can't be denied that he is still a big physical presence in Chelsea's offensive line.
(4-3-3)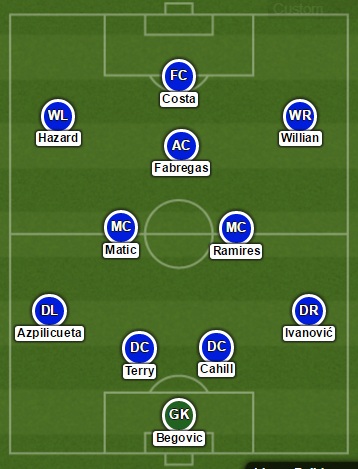 Via – Lineup Builder