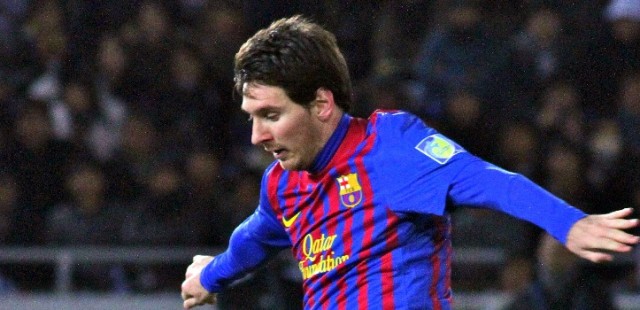 The most anticipated matchup of the La Liga 2015-16 season so far is upon us. Real Madrid face league leaders FC Barcelona at the Santiago Bernabeu in the biggest challenge yet for either side. A win for the home team will bring them back into the race for the top of the table, while a loss will assure dominance for la blaugrana.
Coach Luis Enrique has kept a cool head towards all the hype toward this legendary matchup, not giving anything away other than his excitement towards the fixture. The ex-Barca midfielder spoke after their 3-0 victory over Villareal at the Camp Nou towards his team notably stating "The most important thing is to continue improving, but until February and March it doesn't mean anything."
"The most important thing is that he recovers well, but the sooner the better. We are much stronger with him.

– Enrique, towards Lionel Messi's possible appearance for El Clásico
Madrid have been heavily criticized after their recent 3-2 loss to Sevilla albeit an intense 90 minutes. However, Los Blancos have the best defensive record in La Liga at the moment with goalkeeper Keylor Navas in good form. Barcelona are staying positive with news of Lionel Messi's speedy recovery, hinting at a guaranteed spot in the starting eleven for the Catalans.
However, given Luis Enrique's tendency to rest important players, we could see Messi sidelined to come on as a super-sub. Messi was benched beforehand against Atlético Madrid earlier this season due to the arrival of his second son and would later score the winning goal at the Vicente Calderón Stadium in the 76th minute to give Barcelona a 2-1 victory. On the contrary, Messi would likely be against not being featured in what could be his 31st Clásico.
Defense
Claudio Bravo HAS to rely on a defense that's able to sit deep and compose themselves in the 18-yard box. With only 4 clean sheets to his name, he needs to prepare intensely for one of football's most frightening offensive trios. 
Gerard Piqué and Marc Bartra should be the center-back duo, if Javier Mascherano is put on the bench to sub in for Bartra when necessary. Bringing more pace than Mascherano, the Spanish international has becoming a fine defender for Barcelona, keeping up with offense on the counter.
One of the finest left-backs in the world is Jordi Alba for a reason. 9 caps and a goal in EURO Qualifiers alone, he is just as reliable in an attacking position than in a defensive one.
At right-back, Dani Alves should be present. A position that can also suit Bartra as well to make room for Mascherano, Luis Enrique sees the passion and determination that Dani Alves puts in every performance and will mostly like put the fan-favorite in the starting eleven.
Midfield
Andres Iniesta would be making his 32nd Clásico appearance in the famous red & blue outfit. Iniesta recently spoke to press towards the upcoming match, saying how there is no false sense of security with Madrid. The team captain will hope to appear in a full strength midfield, aiming to pressure and cover deeper on the field to restrict opposition when Alba and Alves decide to move up front to attack. If Iniesta doesn't start, Sergi Roberto is a formidable starter.
Arguably Barca's greatest defensive midfielder, Sergio Busquets will play his typical role: anchoring the midfield and keeping possession in the final minutes of the game. Ivan Rakitic will be the attacking midfield to give direct passes and create chances.
Offense
Neymar and Luis Suárez are La Liga's most unpredictable attacking duo and are coming into this matchup more confident than ever before. Messi might take a seat on this one for Munir El Haddadi and covert the whole team into a 4-4-2 formation, with the Spanish-born Morrocan made to become an right attacking midfielder.
If Leo is giving the green light by Friday, the first team's last day of training, then this will be quite a Clásico, especially for Madrid and their newcomers like Casemiro, Danilo and others.
(4-3-3)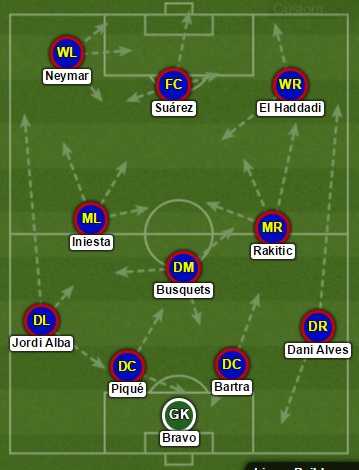 Via – Lineup Builder