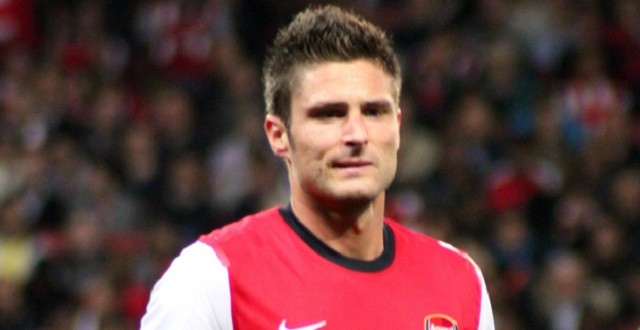 Arsenal play West Brom at The Hawthorns Saturday in their first match since the end of the international break.
Arsenal has been in good form in league for the majority of the season. Although their last match ended in a 1-1 draw against Tottenham, it was a good result when looking at the flow of the match and how both teams played.
The next two to three weeks leading up to the busy Christmas schedule is an important period in the schedule. Arsenal's opponents during this time should ideally see them go on a prolonged winning streak leading up to an important match against Manchester City on December 21st.
The important part of their schedule starts on Saturday and a good result will get the squad on the right foot.
Prior to the international break, the Gunners were in a bit of an injury crisis and a number of senior players were showing signs of fatigued. The break served as an excellent opportunity for certain players to rest and heal up.
Hector Bellerin is back in the squad after missing the last two matches due to a groin injury. Per Mertesacker, who retired from international duty, and Mesut Özil, who was left out of the German squad for squad experimentation purposes, were both granted a rest. Olivier Giroud played in one match as did Santi Cazorla, whose second match was cancelled due to security concerns in Belgium, allowing both players to get a week's rest.
Alexis unfortunately played the full 90-minutes in both of Chile's World Cup Qualification matches, although he apparently did not show any signs of fatigued or injury.
Aaron Ramsey and Alex Oxlade-Chamberlain are just short of fitness for Saturday's match. Both should be available on Monday though, making them both options for Arsenal's important Champions League match against Dinamo Zagreb on Tuesday.
Arsene Wenger acknowledged that he would have to speak to the French players to find out if they are mentally prepared for Saturday. The manager noted that Laurent Koscielny is particularly, and understandably, not entirely mentally sharp and he may not be available on Saturday.
Here is Arsenal's most likely starting lineup against West Brom.
Goalkeeper – Cech
Arsenal has allowed the most shots on target in the league this year, yet they have conceded the second least amount of goals.
Arsenal have allowed 50 shots on target this season – that's more than Bournemouth (48) and Watford (46). Petr Cech earning his corn.

— Orbinho (@Orbinho) November 8, 2015
This exemplifies just how important Petr Cech has been to the squad and backs up comments by his former Chelsea teammates that the goalkeeper will win Arsenal points.
Right Back – Bellerin
Bellerin returns to the squad after missing the last two matches against Bayern Munich and Tottenham. In his absence, Mathieu Debuchy started and the Frenchman's performances improved in both matches
Bellerin's return is welcome and will make Arsenal more dangerous on the right. While the Spaniard was out injured, Arsenal were impotent on the right side of while attacking because Debuchy provided very little going forward and Joel Campbell could create on his own.
Center Backs – Mertesacker & Gabriel
Both Mertesacker and Gabriel should be well rested considering neither has played for two weeks. Gabriel traveled with the Brazil squad but was an unused substitute in both of their World Cup Qualifiers.
Wenger indicated that he might leave Koscielny out of the squad to allow the player to recover from the horrible events that rocked Paris. Wenger stated that there was a clear difference between Koscielny's performances against Germany and England after the weekend.
Koscielny was emotional in the build-up to France's friendly against England Tuesday night, and it would be understandable of he needed extra time to recover.
Left Back – Monreal
Nacho Monreal was not called up to the Spain squad and has therefore been afforded a two-week rest. He has been in excellent form and is playing like the best left back in the Premier League.
Kieran Gibbs continues to perform at an adequate level but has done nothing to usurp Monreal.
Defensive Mid – Coquelin
Luckily for Arsenal, Didier Deschamps still hasn't noticed the excellent form that Francis Coquelin has been in the past year and he too was given a two-week rest.
Considering that Arsenal have inadequate back up to Coquelin, the international break couldn't have come at a better time for the Frenchman. He should be refreshed and energized for Arsenal's next stretch of matches.
Central Mid – Cazorla
Cazorla was one of the senior players who had shown signs of fatigue prior to the international break. Luckily for Arsenal, he only played in one match for Spain this break, although that was due to unfortunate circumstances as Spain's second match was cancelled due to security concerns.
Cazorla last appeared for Arsenal against Tottenham. He was taken off at half time for what Wenger described as not illness, but dizziness. Arsenal need a fit and healthy Cazorla the next few matches. He won't be granted much of a rest until Ramsey is back to full fitness.
Attacking Mid – Özil
Özil has been in excellent form the past few months. He is primed to continue his red-hot form through the Christmas break after Joachim Löw granted the German playmaker a break in light of the fact that there is no winter break in England.
Wide Right – Campbell
Campbell will be given another start, as Ramsey and Oxlade-Chamberlain are just short for this match. He's played well enough in the few matches that he's started and has done what was expected of him.
Arsenal will welcome the return of Ramsey and Oxlade-Chamberlain though as both players pose a much larger threat than Campbell.
Wide Left – Alexis
Considering the manager has little other choice in his squad, Alexis will start on Saturday. The Chilean international needs a rest and that has been all too clear the past few matches. He has looked fatigued and jaded, which is understandable considering he had a four-day preseason and little vacation time this summer due to international commitments.
Tuesday may be a good time to rest Alexis, if Ramsey and Oxlade-Chamberlain can start. Affording him a rest now will only benefit Arsenal the rest of the season.
Striker – Giroud
Olivier Giroud gets the start at striker, although the manager has little other choice. Giroud had been in good scoring form in the build up to the international break and hopefully he will pickup where he left off . 
Theo Walcott is still injured but is expected back in within the next few weeks.
(4-3-3)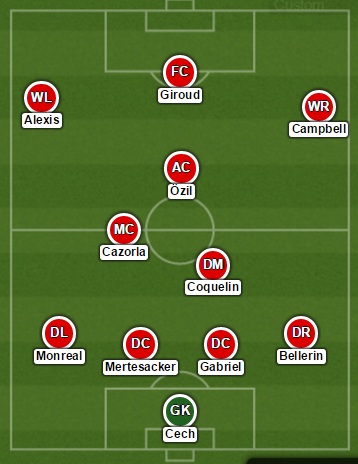 Via – Lineup Builder