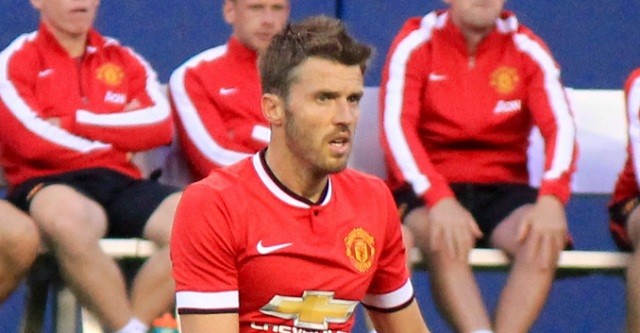 Despite a capitalized volley from Wayne Rooney, it was mostly bad news for Manchester United during the mid-November international weekend. In England's first friendly against Spain, midfielder Michael Carrick departed on a stretcher and was feared to have suffered damaged ankle ligaments.
England's national team manager Roy Hodgson admitted afterwards the injury did not "look good". He continued to say, "Michael has got a severely twisted ankle which normally means ligament damage."
Luckily for the United faithful, Carrick is only supposed to miss the next couple of matches and should make a return in early December. The x-rays done in Manchester brought positive news; however, at Carrick's age, recovery may not come as expected.
Carrick has done the best job of igniting the offense from the center of the pitch in recent matches and may have secured a starting role in the eyes of Louis Van Gaal. This injury will give Frenchman Morgan Schneiderlin ample oppurtunity to take back his place in the starting XI.
The greater of the scares might have occurred in Tuesday's friendly between England and France. While everyone's hearts and minds were with France, it was England who secured the victory with stunning efforts from Tottenham goldenboy Dele Alli and Wayne Rooney.
The major story for United fans unfortunately came with Anthony Marital. Martial was replaced by Antoine Griezmann in the 67th minute and in the post game interviews we learned of his injury.
French manager Didier Deschamps spoke to the media. "He is in quite a bit of pain. . . I think it is a knock to the top of his foot." Martial was later seen leaving Wembley on crutches. 
Whether or not the young Frenchman will play in this Saturday's match versus Watford is still undecided. 
Among these injuries, Chris Smalling and Marouane Fellaini also took knocks on international duty, but are not expected to miss any time.