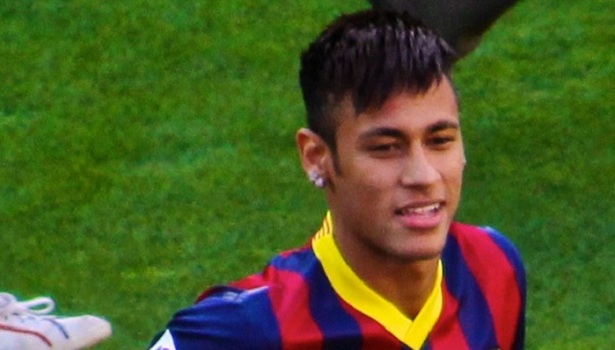 Cristiano Ronaldo and Lionel Messi's unreal form over the last few years, let alone last season, has permanently given them top billing over football's most beloved individual trophy: the FIFA Ballon D'Or.
Although it's pretty clear that Messi's on his way to pick up his 5th gold ball, we've been privileged to watch the best around the world demonstrate their talent in the top leagues. FIFA have listed great candidates in 3rd place for the impressive award including Sergio Agüero, Gareth Bale, Neymar, and Luis Suarez. Who takes the bronze this year?
It's a tough decision between Agüero and Neymar. Neymar ended his La Liga campaign last season with 38 goals and 7 assists in all competitions as Barcelona rewrote history, becoming the first team to successfully complete a treble winning season twice. However, Brazil ultimately tanked under new manager Dunga in the 2015 Copa America in Chile where his only highlight was an equalizing goal against Peru in a 2-1 victory. Brazil would see Neymar infamously receive a red card for violent conduct against Colombian Jeison Murillo, banning him for the rest of the tournament and beyond and finally losing on penalties to Paraguay in the quarter-finals.
In comparison, Agüero was marginally better than the Brazilian, scoring 3 for Argentina as they reached the final of the Copa America, disappointingly losing on penalties where he didn't get to take a single one. Domestically, he was top goal scorer in the Premier League with 28 goals for club Manchester City, who sat second in the league, also providing 8 assists. He added 6 more goals and another assist in a unimpressive Champions League run.
International success is, or at least SHOULD be, a huge factor in a Ballon D'Or winner. This is something that Cristiano Ronaldo didn't experience last year at the World Cup, despite winning the award. Manuel Neuer clearly should have won the award.
Bayern Munich steamrolled through their opponents, much like their are doing now, during their 2014-15 campaign and deservedly won the DFB-Pokal Cup and importantly Bundesliga title, breaking their own held record of fastest title win in German top flight history, with just 7 games left. Pivotal to this pristine record was the German "sweeper-keeper", who led the league in clean sheets with 20 and was 2nd place in most clean sheets in Europe's top 5 leagues, just 3 behind Claudio Bravo of Barcelona. He was also pretty good in the 2014 FIFA World Cup in Brazil, winning the whole damn thing and was awarded Best Goalkeeper of the Tournament. Germany ended up relatively (Republic Of Ireland, anyone?) cruising through EURO qualifiers. Although he had a good season this year, it wasn't enough for a 3rd place spot.
That's all in the past, though. This year's nominees are a fantastic bunch, but who stands out the most beside Kun and Ney?
Aforementioned Wales International Gareth Bale comes to mind as a solid contender. Sure, he didn't win much last season with club Real Madrid, beside a FIFA Club World Cup. Not much of an incredible feat given the quality of the teams. Real Madrid did as well as they can in all competitions; runners-up in La Liga, knocked out by Juventus in the semi-finals of the Champions League and knocked out of the Copa Del Rey by rivals Atletico Madrid. But the world's most expensive player has been sensational in recent months for The Dragons. Bale and company only suffered a single loss as they sat in 2nd place in Group B of European Qualifiers, giving them tickets straight to the EUROS: Their first EURO qualification in the team's history. Bale scored 7 for Wales as the team's top scorer and joint 4th top scorer in the Qualifiers, along with Wayne Rooney, Steven Fletcher, Kyle Lafferty and Marc Janko.
Kevin De Bruyne should also be mentioned in this category, preforming well and scoring regularly for Belgium as they top Group B of EURO Qualifiers. Now, they are #1 in the FIFA/Coca-Cola World Ranking. Domestically, he ended his 2014/15 season for VFL Wolfsburg with created 26 assists, the most assists out of any player in Europe, scored a few of his own, and ended the year as a DFB-Pokal cup winner in 2015 and Bundesliga Footballer of the Year. The 2009 Bundesliga champions couldn't secure his signature for another year as they sold him to Manchester City for a whopping €75 million and, contrary to my beliefs, is now flourishing with the English giants.
Javier Mascherano, Thomas Müller, Eden Hazard, Andres Iniesta and many others on the list had preformed just as well this/last season. It's a tough say who should DESERVINGLY get on the 3-man shortlist for the award. Unfortunately, the award tends to go to the massive goalscorers but anything can happen come January 2016, where the winners will be announced at the FIFA Ballon D'Or Gala.