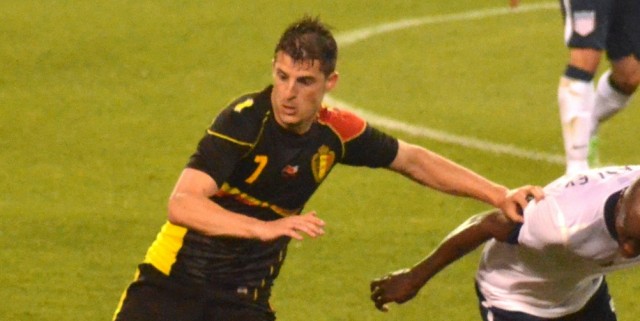 According to reports from the Daily Mail, Everton's Kevin Mirallas is becoming more and more unsettled at Goodison and could look to leave the club in January if his role is not expanded.
Mirallas told Brussel's newspaper La Dernière Heure "in January, if my situation has not changed, I will undoubtedly have to ask myself questions and maybe think about leaving." The winger also told the media that he has approached Everton manager Roberto Martinez to talk about his current playing time.
Mirallas has played in Everton's three previous Premier League matches, but only as a second half substitute. The winger hasn't been named to the starting eleven for the Toffees since his sending off against Swansea back in September.
Another concern for the Belgian going forward is showcasing his talents for national manager Marc Wilmots. With the Euros just around the corner, Mirallas will need every opportunity to show his worth to the national team or risk being left off an extremely talented Belgian side.
Everton don't need to be in a rush to sell Mirallas if they don't want to after having signed the man to a contract extension in August.
The extension puts the Belgian under contract until the summer of 2018. However, if the team decides to part ways with Mirallas, there will likely be plenty of suitors as a number of teams were interested in Mirallas's services during the previous transfer window.