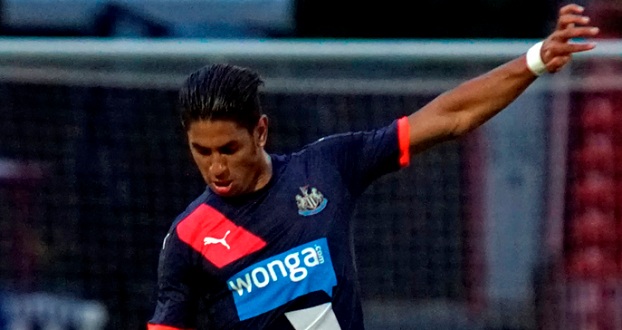 Twelve games into the English Premier League season Arsenal, somewhat surprisingly, appear to be legitimate title contenders.  They are currently in second place, with goal differential being the only thing separating them from being atop the standings.
However, Danny Welbeck and Theo Walcott have both suffered injuries this season leaving the club thin at the striker position.  If Arsenal could make a January move to acquire a reliable striker, it would help them continue to challenge for the league title.
Metro.co.uk has reported that Arsenal have been in talks to acquire either Karim Bellarabi or Ayoze Perez.  Neither of these moves would be particularly flashy, but they would fill a need for Arsenal if their top strikers continue to struggle to stay on the field.
Karim Bellarabi is an attacking midfielder and striker for Bayer Leverkusen.  So far this season he has only scored 2 goals in 12 Bundesliga matches, but he did manage to score 12 goals for Leverkusen last season, proving to at least be potentially valuable.
Similarly, Ayoze Perez is not a big name player, but he is having a good season for Newcastle this season.  He has scored 3 goals and has 2 assists in only 10 appearances while playing for a club that is currently fighting against relegation.  If he gets the opportunity to move to a more successful club, he might be able to increase his goal totals since he would presumably be getting more scoring chances.
Perez and Bellarabi are not flashy names, but signing one or both of them would certainly help Arsenal.  With Welbeck having suffered a serious injury, and with Walcott's history as an injury prone player it would be prudent for Arsenal to add to their depth at striker this January.
Both of these moves seem realistic for Arsenal since neither signing is likely to cost the team a fortune.  Simply adding one of these players would certainly not make Arsenal the league favorites, but it could at least be the start of what is hopefully an active January for the Gunners.