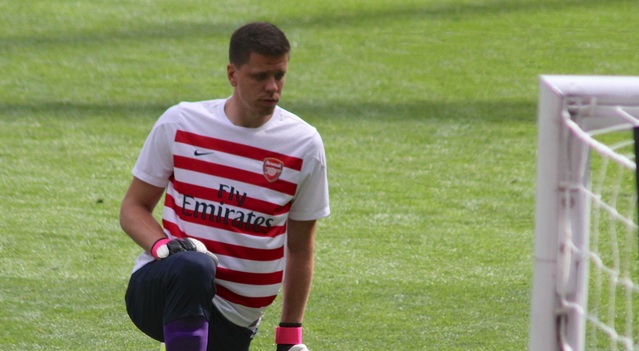 Roma are hoping to retain Wojciech Szczesny on a permanent basis after his loan ends this summer, according to Sky Sports. However, Roma sporting director Walter Sabatini believes a deal may be difficult to complete.
"We are working on it and would like to keep Szczesny, but knowing Arsenal it will be difficult to achieve that," said Sabatini.
Szczesny joined Roma earlier in the summer on a season-long loan after Arsenal purchased Petr Cech for £10 million. The Polish international had endured a difficult season at Arsenal after being dropped by the manager due to a string of below average performances. The now infamous "smoking in the shower" incident after a match against Southampton was the icing on the cake.
Szczesny regained his place in the squad for the FA Cup Final where he played well and kept a clean sheet. The selection led to speculation that the keeper would be retained to serve as Cech's number 2 and learn from the legendary keeper. But, after a conversation with Arsene Wenger, Szczesny agreed that a move abroad for a year would be the best option, especially if he were playing regularly.
Szczesny has experienced an up and down season at Roma so far, much like some moments in his Arsenal career. However, the fans and upper brass of Roma seem to have taken a liking to the player.
Szczesny for his part already spoke about his future a month ago and admitted that returning to Arsenal is his dream.
"If a year ago somebody had told me that I would go to Rome I would have thought it impossible. For me it is a family, I owe so much to those people that If I were to be given a chance, I would play for them [again]."
Szczesny also moved to dispel rumors that there are hard feelings between Wenger and himself and understands the club's decision to bring in Cech.
"Everyone knows that I have made mistakes but I have always accepted the consequences. Wenger was always clear to me and I believe that anyone who is honest is to be treated with honesty.
"I never hated Wenger, I owe him a lot. I never hated him, I have always taken responsibility for my mistakes and not created any problems.
"We never had any problems but I understand that newspapers are looking for stories. I was not surprised by the arrival of Cech as he is a great goalkeeper who has won everything. I think any coach would have taken at such a low price."
Arsenal certainly does not owe Szczesny anything and if it's best for the club to move on from the keeper after this season, then so be it. However, he is still a goalkeeper with immense potential who will only improve considering his young age and already vast experience.
Sitting behind Cech for a season may stall Szczesny's development in terms of ability because he won't be playing as consistently. But, it's hard to argue that he wouldn't gain anything from sitting behind Cech in terms of the mental aspect of the game.
Regardless of what the future has in store for Szczesny, Roma have already secured a back up plan in case things do not go as they hope. That is according to Sabatini anyways.
"In any case, Roma are already covered in that role for next season. Who did we get? I would never tell you that!"