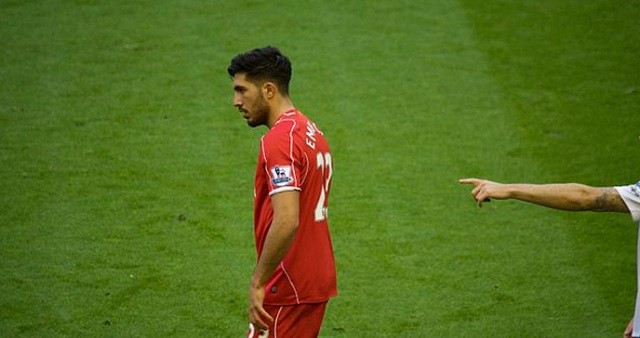 Liverpool's 1-2 defeat against Crystal Palace on Sunday came as a bit of shock and yet, the Reds conceded the first goal in one of the worst ways. Sadly, Emre Can was once again at the center of it. Let's take a look at how it happened.
When Crystal Palace winger Zaha put his cross into Liverpool's box, Emre Can was not under pressure and had the perfect vision to clear the ball from such a dangerous area, which should be a simple required reaction as well as common sense for any defending player.
But astonishingly, the German midfielder extended his leg, hardly exerted any of his strength, just kind of letting the ball bounce off his foot before Bolasie picking it up and burying the ball into the back of the net.
What's more irritating was when the Crystal Palace striker took the ball from his poor touch, Emre Can was practically frozen on the ground without any attempt to cover his mistake and block the shot.
The entire defensive display of Emre Can could not be more foolish and amateur. Disappointingly, the former Leverkusen man hasn't learned his lesson when his thoughtless clearance gave Romelu Lukaku and Everton their equalizer in the Merseyside derby just a bit over a month ago.
More importantly, Emre Can has never been a technically gifted midfielder. His sloppy and predictable passes often put a pause on Liverpool's possession or counter-attack while making finite contribution on the offensive side due to his lack of creativity and pace.
Above all, being a hot-headed footballer, Emre Can tends to embroil himself into unnecessary brawls and from time to time, even commits nasty challenges. Whether he gets himself a card from the fouls, yellow or red, or whether he injures the players on the opposite side, it is simply something that no one would want to see.
Therefore, in the long run, any combination between Jordan Henderson, James Milner and Lucas Leiva should be Liverpool's two starting defensive midfielders in its 4-2-3-1 formation.
And despite the current injury problems of the two England midfielders, Joe Allen could still be given another chance ahead of Emre Can considering the latter's poor performance and limited talent so far.