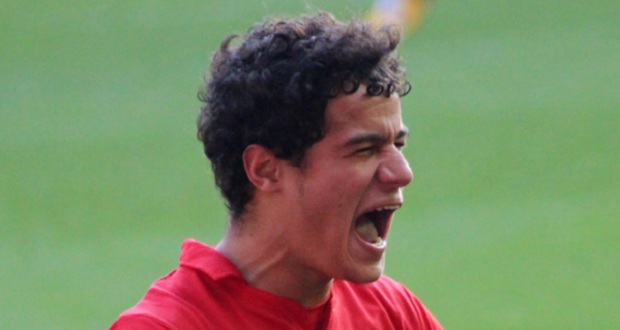 Jurgen Klopp endured his first Liverpool defeat after a margin loss to Crystal Palace. Nonetheless, the Reds showed positive signs of improving on Sunday despite dropping points at Anfield; moreover, Philippe Coutinho, who scored only three goals in seventeen games under Brendan Rodgers, had now scored the same amount of goals for Liverpool in just five games.
Coutinho, who has never scored more than five goals in a season, was the player maker under Rodgers, but his lack of goals was often criticized by media and analysts. However, the 23-year-old Brazilian international has consistently contributed his performance in  number of goals under Klopp, who has a huge faith on his talisman.
"Philippe is a great player," Klopp said during the post-match interview against Chelsea on last weekend. "We don't have to talk about this," "he is somebody with skills."
Under Rodgers, the last three goals that Coutinho scored were against Aston Villa in FA Cup back in April, Queens Park Rangers in May and Stoke City in August.
The former boss, Rodgers, praised the Brazilian on his match winner against Stoke City on match opener against Stoke City. "He has that moment," Rodgers said. "It was a wonderful goal to win the game."
After Klopp took charged of the Reds, the change on players not only happened on tactical aspects, but also on players' mentality. "If you can be better, you have to be better", Klopp said during the Crystal Palace's post-match interview. "The only one to decide if you're tired, is yourself and nobody else," "if you think you're tired then you're tired," "we decide about our situation."
Liverpool will head to Etihad stadium to face Manuel Pellegrini's Manchester City on the next match day. Will Klopp pull off a great victory like he did against Chelsea, and will Coutinho take the spotlight against the Blue Moon ONCE AGAIN?