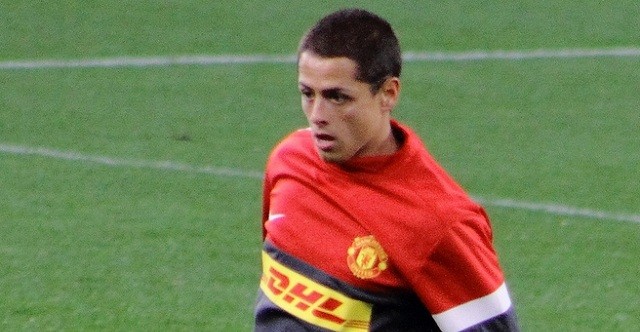 Former Manchester United star, Javier "Chicharito" Hernandez, is only three months into the season with his new club, Bayer Leverkusen, and he may be on the move again. ESPN FC has reported that Chelsea has strong interest in the Mexican striker.
Hernandez is showing much improvement in Germany with his new Club as he has already scored twelve times this season for Bayer Leverkusen, according to Tom Hopkins of the Mirror. This is just what Chelsea is looking for since they are having trouble with midfielder Eden Hazard and ex-Manchester United forward, Radamel Falcao.
Chelsea would be the second EPL team Chicharito would join due to his four seasons at Manchester United between 2010-2015 (Loaned to Real Madrid in 2014-2015). Hernandez scored 37 goals in 103 appearances at United and 7 times for Madrid.
Although he struggled to score last season, Chicharito is showing much improvement for his German Club and is under Chelsea's radar for this winter's transfer window. We could see Hernandez in solid form at Chelsea not only because he is at the prime age of 27, but because he is rediscovering himself this season by getting back to his roots by producing more on offense.
https://www.youtube.com/watch?v=Eo8D9DI6xq8
It may not take long for Hernandez to get comfortable at Stamford Bridge because he was recently playing in England back in August. He already has the EPL experience and now has the goal scoring mindset to contribute to the team and help Chelsea improve on the second half of the season.
Chelsea coach, José Mourinho is on thin ice with the club dropping further and further down the Premiere League table and may not even be the coach in January due to the lack of compatibility with Chelsea's squad. However, if he is, Mourinho will be hoping that a new transfer like Chicharito will boost the team and save him from his potential sacking.
If Hernandez continues to play strong throughout December, do not be surprised if we see him playing along side of Cesc Fàbregas after the winter break.