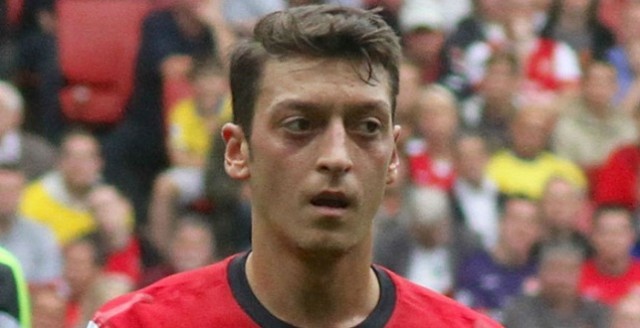 With Manchester City failing to gain a full three points against Aston Villa earlier in the day, Arsenal had a chance to move into first place in the English Premier League with a victory against their hated rival, Tottenham.
The game was relatively quiet until the 32nd minute when Tottenham defender Danny Rose played a beautiful ball into the penalty area, and Harry Kane was able to calmly place it into the back of the net to give Tottenham an early lead.  Arsenal put no pressure on Rose allowing him plenty of time on the ball, and he executed a perfect pass making the Arsenal defense pay for their mistake.
Tottenham had five shots to Arsenal's one in the first half, while Arsenal had 55% of the possession in the first half.  Overall Tottenham looked a bit more threatening than Arsenal in the first half, and that came through on the scoreboard.
In the opening minutes of the second half Joel Campbell took a shot that would have found the left corner of the goal if not for a good save by Tottenham goalie Hugo Lloris.  Minutes later Olivier Giroud hit the crossbar on an attempted header showing that Arsenal had life.  Both attempts were set up by passes from Mesut Ozil.
Tottenham had chances of their own in the second half but Petr Cech was able to make a few saves, including one from point-blank range to hold Tottenham to one goal.
In the 77th minute Arsenal was able to score an equalizer when Mesut Ozil played a fantastic cross to Kieran Gibbs who was able to kick it past Lloris.  Despite the fact that Tottenham was in control for most of the game, Arsenal had all the momentum going into the last 10 minutes of the match.
Arsenal was able to put pressure on Tottenham for the final 10 minutes of the game, but they were unable to score.  Although Tottenham were the better side for the first 75 minutes of the game, Arsenal was able to muster up a draw.
Mesut Ozil was the Arsenal player of the game and it was his pass that set up the equalizing goal from Kieran Gibbs.  Ozil finished the game with 7 key passes showing that he was able to create most of the Arsenal chances throughout the game.
Ozil led the team with 81 touches further demonstrating his impact on the match, and he was able to complete 81.5% of his passes.  In a game when not too many Arsenal players performed particularly well, Ozil was able to step up and help Arsenal salvage a draw.