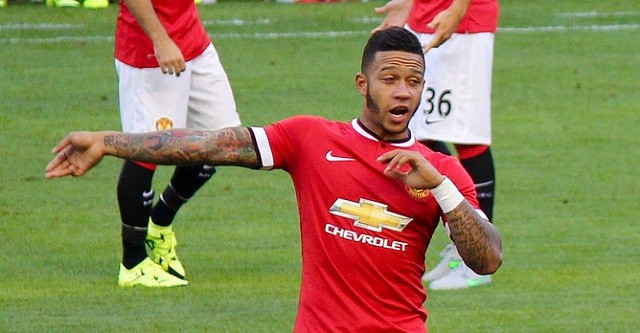 Goalkeeper
There is no question that United are comfortable in front of the big Spaniard, David De Gea. Now at three straight clean sheets (Romero played against Middlesborough) he is the EPL's top keeper and will get the start against West Brom.
Left-Back
While Marcos Rojo has shown good defensive poise at left-back, he is uncomfortable when involved in offense. Daley Blind has been solid this year in the tandem with Chris Smalling at center-back, but there are commonly moments where you question his physical power and ability to beat others in the air. He may be better served at left-back where his long-ball capabilities and vision are not put to waste.
Center-Back
Chris Smalling has been United's top overall performer this season. Smalling and the injury ridden Phil Jones are poised to continue their growth into being United's defensive duo.
Right-Back– While the best long term option at right back may be Matteo Darmian, Ashley Young might be the best option until United start scoring consistently. He is naturally gifted offensively and he provides the best services of anyone on the squad. This saturday, he should look to work off Juan Mata more often.
Midfield
Juan Mata is the best option on the right side, but he has to involve himself in the game way more often. He largely has gone unnoticed as of late and needs to put himself in places to make his patented passes.
Michael Carrick was United's top performer against CSKA Moscow this Tuesday. He provided many great passes leading to opportunities including one leading to United's only goal. Bastian Schweinsteiger will likely help manage the middle of the park along side Carrick.
Wayne Rooney is best served in the number 10 role behind Martial and a bit deeper so that he can find both his wingers with long passes to spread the field.  He will look to start a goal scoring streak after a masterful header against Moscow.
Memphis Depay should be given another chance to start some momentum as he may be the only long-shot threat for United. Since Shaw's departure he has struggled to find chemistry with anyone, but with fellow Dutchman Blind on the left-side, something may spark.
Working with Daley might impress Danny Blind, Dutch National coach, who left Memphis out of the  national team lineup against Wales.
Striker
Anthony Martial has simply been incredible despite his small goal drought. If he starts, Memphis will have to draw defenders higher because of his long-shot capability which may present more room for Martial behind defenders. Look for young French international to be making a lot of aggressive runs this weekend.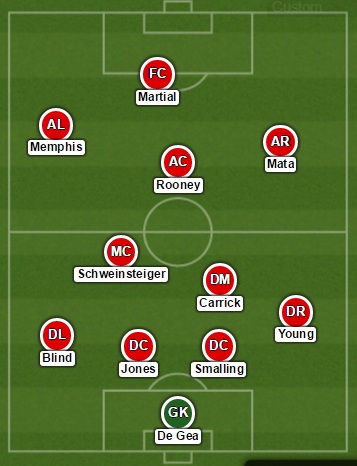 Via – Lineup Builder