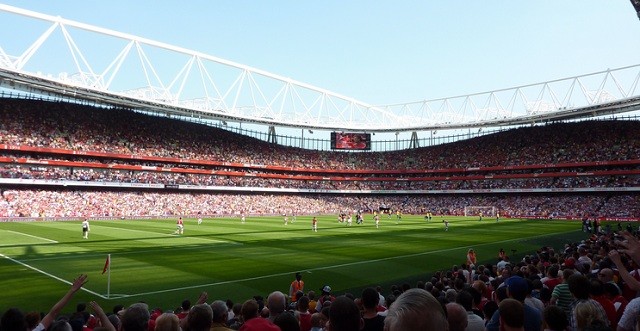 Arsenal welcome Tottenham to the Emirates on Sunday in what will be the second North London Derby of the season already.
Arsenal and Tottenham previously played in the third round of the Carling Cup this year. Arsenal ran out 2-1 winners at White Hart Lane in that encounter with Mathieu Flamini scoring a brace.
Arsenal are coming off a 5-1 thrashing from Bayern Munich, an although the score line was a fair evaluation of the game, Arsenal's performance was not truly indicative of who they are due to a rash of injuries this month.
Speaking of injuries, Laurent Koscielny, who missed the match in Munich due to a small hip injury, should start and Mikel Arteta and David Ospina will find places on the bench after both missed the previous few matches due to injures.
There is less fortunate news with Hector Bellerin though who will miss his second match this week due to a slight groin injury. The international break cannot come soon enough for the Gunners with Aaron Ramsey, Alex Oxlade-Chamberlain, Bellerin, and hopefully Theo Walcott all due to return to fitness be the end of it.
Ahead of the match, Arsene Wenger spoke to the press and urged his team to rediscover the confidence and focus they have exhibited in the Premier League the past five matches.
"I believe that in the Premier League we have a strong confidence and focus and that is what we want to reproduce on Sunday against Tottenham and, as always, it is a derby. It is always a game where the commitment and nervous force will be important."
If this season's results are an indicator of anything, they tell us that Arsenal usually respond to a poor result with a good performance and a win to go along with it.
Here is Arsenal's probable lineup on Sunday.
Goalkeeper – Cech
Petr Cech had a so-so match against Bayern. There was not much he could have done for goals two through four, but he maybe could have reacted better on the first, and will have been disappointed to be beaten at the near post on the fifth.
Nit picking aside, he did pull of a number of good saves and prevented the score line from being larger than it was.
Cech is no stranger to big matches and the atmosphere of the North London Derby should not be new to him.
Right Back – Debuchy
With Bellerin missing out again due to his groin, Mathieu Debuchy will play his second match in a row.
His performance on Wednesday was improved from his previous start, although he still is a long way from showing his peak form. This string of starts will do the Frenchman some good and hopefully his performances continue to slowly improve.
Debuchy had one moment in the game on Wednesday where Arjen Robben broke free and was one-on-one with Cech, before Debuchy stormed back and picked the ball off Robben at the last minute. Moments like those can be a confidence booster for players and maybe Debuchy will use it as a catalyst for improved performances.
Arsenal will miss Bellerin's attacking prowess and pace down the right, especially considering that Arsenal are missing key attacking players on that side and Debuchy does not offer much of anything up the pitch.
Center Backs – Mertesacker & Koscielny
It seems that Koscielny picked up his injury the night before the match and Wenger decided to sit him as a precaution. If it were a cup final, the French defender would have played.
In his absence, Gabriel and Per Mertesacker partnered up and had a difficult time marking Bayern's rotating front three. Koscielny may have not made much of a difference but the duo's performance Wednesday night was still not up to par.
Koscielny will likely be tasked with man marking Harry Kane.
Left Back – Nacho Monreal
It's difficult to say that that there were any bright spots in Wednesday's performance, but at least Nacho Monreal didn't put in a poor performance. He struggled just like everybody else but you couldn't pick out any glaring errors made by the Spaniard.
The Spanish international will look to lock down Erik Lamela.
Defensive Mid – Coquelin
Francis Coquelin, like Monreal put in a nondescript performance with few real errors. He will be tasked with shutting down Tottenham's creative hub in Christian Eriksen.
It's likely that Tottenham will emulate Bayern's high pressing game, which is also a tactic Tottenham used last season when they beat Arsenal at home. If that is the case, Coquelin will be tasked with breaking up their play and moving the ball quickly up field to Santi Cazorla and Mesut Özil.
Central Mid – Cazorla
Cazorla will continue to marshal his central midfield post. He will be the creative hub that get's Arsenal's attacking style flowing. If Tottenham do press Arsenal high up the pitch, he will need to work extra hard along with Coquelin to move the ball up the pitch quickly to either flanks or to Özil.
Attacking Mid – Özil
Özil was the only bright spot in Arsenal's performance on Wednesday. He was excellent with the ball at his feet and constantly looked to get his teammates into good positions with the ball. Unfortunately he was the only Arsenal player with those intentions.
He correctly had a goal disallowed for handball and if he had let the ball hit him naturally without leaning in, it may have stood.
Özil will receive a deserved rest during the international break this coming week after Germany manager Joachim Löw decided not to call up the German playmaker. Löw attributed the fact that Özil does not get a winter break England to his absence in the national team. Özil's absence in the Germany squad is a service to player, club, and country.
Wide Right – Campbell
Joel Campbell seemed a little burnt out on Wednesday, which is fair play to the player consider it was his third match in seven days. We may see Alex Iwobi come in for Campbell, or possibly Jeff Reine-Adelaide, although it would be a surprise if Campbell sat considering the inexperience of the two aforementioned players and the magnitude of the occasion.
Wide Left – Alexis
Alexis seemed burnt out as well on Wednesday and he could do with a rest during the international break. That won't happen consider his importance to his country and Wenger may be forced to sit his second most expensive signing a match or two after the break.
Alexis usually responds well in big occasions and a derby may be exactly what he needs to find that extra gear and hidden source of energy, as incredible as that may sound.
Striker – Giroud
Without much service, and his lack of pace for that matter, Olivier Giroud had difficulty making a real impact on Wednesday. He did score a very well taken goal that was indicative of the quietly excellent form he is in these past few weeks.
Only a month ago, Giroud had come under intense criticism from Arsenal fans, his national manager, and those in attendance to boo him off the field in a match between France and Serbia.
Now he is on a run of seven goals in seven matches for club and country, and has been Arsenal's main source of scoring.
The worry is that he will soon grow fatigued due to the fact that he is the only healthy striking option the club has. Historically, the goals run dry for Giroud once he grows tired, and once the goals dry up, he gets in his head and his form dips.
It's a vicious cycle that hopefully will not show its face before Walcott returns to fitness.
(4-2-3-1)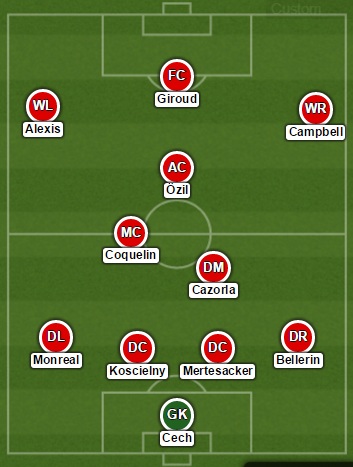 http://lineupbuilder.com/?sk=9c3f