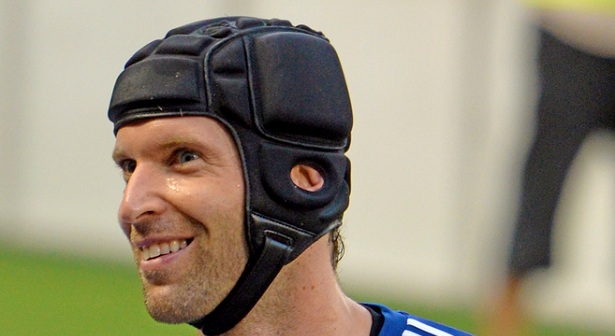 Arsenal entered the day in last place in their UEFA Champions Group, but they had a chance to improve their position with a good result against Bayern Munich in Germany.  Arsenal had beaten Bayern Munich 2-0 at home two weeks prior, but playing in Germany would prove to be a much tougher test for the Gunners.
Arsenal fell behind early when Robert Lewandowski headed a cross from Thiago beyond the hand of Petr Cech.  Arsenal responded almost immediately on what appeared to be a goal from Mesut Ozil, but the goal was disallowed because the ball bounced off his forearm on it's way into net. 
Bayern then began to demonstrate their offensive ability as they peppered shots towards Petr Cech.  Cech was up to the task, making several good saves to keep Arsenal within reach early on.  Cech demonstrated great anticipation, as he made some difficult saves seem somewhat easy.
Thomas Muller scored a goal on a shot that took a deflection off of Arsenal centerback Per Mertesacker to make it 2-0 Bayern Munich.  Alaba then scored on an impressive curling shot from outside the of the box to make it 3-0 Bayern at the end of the first half.
Bayern completely controlled the first half of the game, and would have been winning by more than three goals, if not for the strong play of Petr Cech.  Cech made an incredible 7 saves in the first half to help prevent Arsenal from getting further embarrassed.
Early in the second half Arjen Robben scored on a pass from Alaba to give Bayern their 4th goal. Giroud scored a goal for Arsenal late in the game and Muller scored one in the final minutes for Bayern. Bayern easily handled Arsenal and won 5-1.
The player of the match for Arsenal was Petr Cech, despite allowing a total of 5 goals.  Arsenal was completely overmatched in this game, and Bayern ripped countless shots on target at Cech.  Cech made several good saves to keep Arsenal from losing by even more goals.  None of the other players for Arsenal were able to make a positive impact.
Cech finished the game with a total of 8 saves on 13 shots.  All of the Bayern Munich goals would have been extremely difficult to save and were no fault of Cech.  Cech's solid performance earns him the Arsenal man of the match on a day when there were not many positives from the Gunners.