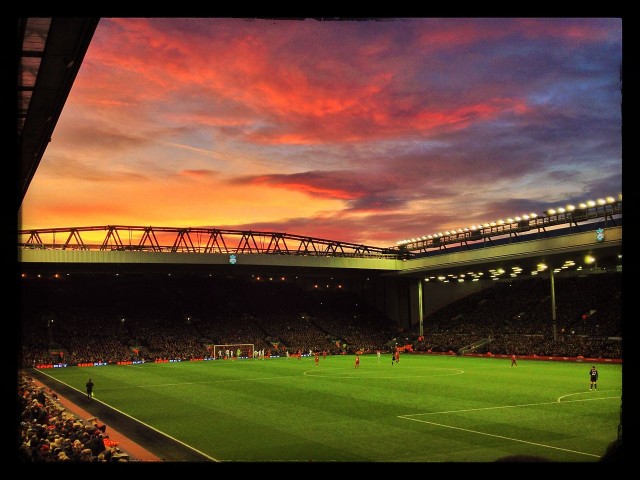 After a magnificent 3-1 victory over Chelsea last weekend, Jurgen Klopp and Liverpool will look to make get three consecutive victories with a win over Rubin Kazan this Thursday. This is the kind of match that Klopp and his players probably hate given that they have have to travel to Russia and then only have three days of rest before they face Crystal Palace on Sunday. The travel could lead to Klopp resting many of his best players but this is also an opportunity for the bench players to prove themselves.
Goalkeeper
Simon Mignolet should have an easy match on Thursday given Rubin Kazan's inability to score goals but as usual, the Belgian 'keeper should take care in ensuring that his defense remains attentive for the entire 90 minutes, especially during set pieces.
Right-Back
Connor Randall had a strong debut against Bournemouth in the Capital One Cup and given the squad's lack of depth in the full-back position, he could get another start on Thursday. While he is not the most exciting attacking full-back, he keeps things simple and does not try to do more than he should.
Center-Backs
Martin Skrtel is coming off a strong performance against Chelsea and he is capable enough of shutting down Kazan's lead striker, who will probably be Marko Devic.Given that the opponents don't have the most powerful attack, Dejan Lovren should be a safe player to start.
Left-Back
Alberto Moreno played very well against Rubin Kazan at home and that might lead to Klopp choosing him once again. As usual, his speed really helps when he is bursting down the flank and he always seems to be an option to receive the ball. However, he still needs to work on his marking skills, he gets caught watching the ball instead of paying attention to the player he is marking.
Defensive Midfield
Just like Randall, Cameron Brannagan may start once again after a solid performance against Bournemouth. Joe Allen and Emre Can both have limitless amounts of energy which makes them a perfect fit for Klopp's pressing style. They should be able to control the middle of the pitch for the Reds and Can will have plenty of opportunities to run with the ball.
Attacking Midfield
The English duo of Jordon Ibe and Adam Lallana should get the start with Philippe Coutinho a possible substitute if either of them disappoint. Ibe has looked better in recent matches since he has been more decisive and willing to use his speed and dribbling ability to penetrate opposing defenses. The same could be said for Lallana, while he is not the most impactful player, he does a lot of small things that help the attack flow better.
Forward
Divock Origi should start the match but Klopp should not hesitate to bring in either Christian Benteke or Roberto Firmino if the young Belgian struggles once again. Starting Origi allows Klopp to rest his other options for as long as possible and they don't need to come on if the Reds take the lead. This is a big match for Origi, he has not been effective as a lone striker
(4-3-2-1)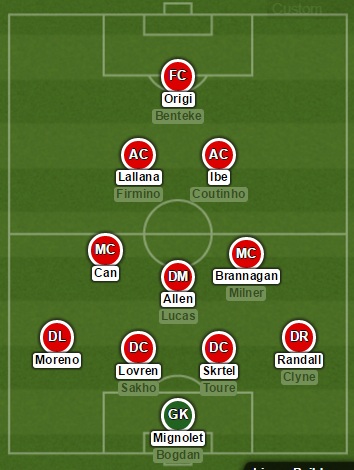 Via – Lineup Builder