Once again, Chelsea disappointed its fans after they lost 3-1 to Liverpool in the Stamford bridge, following another abysmal performance from the Blues. And although most Chelsea fans support Mourinho and blame the players for the recent results, Jose's job is not secure, and he could lose it any second!
So Chelsea's game against Dynamo Kyiv in the Champions League is an extremely important game for the Special One. Both teams will go head to head in the Stamford bridge, where the Chelsea fans will only accept a win!
Goalkeeper – Asmir Begovic
Begovic is not a goalkeeper who could single-handedly keep his team in the game, as he needs his defense to play well alongside him. However, Begovic will most likely start, as Chelsea haven't got any other goalkeeper of his caliber (with Courtois out – injured – until December).
Right Back – Kurt Zouma
Kurt Zouma has been solid and is the most qualified player for the Right Back position. This is because Azpilicueta is incredibly superior in the left back position, Ivanovic is injured (and not even qualified to start for Chelsea anymore), and Aina doesn't have enough experience. So Zouma should start against Dynamo Kyiv, with the fans hoping that he could cope with the fullback position until the January transfer window!
Central Defender – Papy Djilobodji
One of Ligue 1's best defenders in the previous season, made a move to Chelsea, but hasn't been given any time to shine, with him only making his debut for the Blues in the added time against League One side, Walsall. He will be the perfect replacement for John Terry whose performance against Liverpool was extremely poor!
Central Defender – Gary Cahill
Until the Liverpool match, Cahill had a good run of form, and he will be expected to go back to his good form and protect Chelsea's backline against the Ukranian side's threatening attackers.
Left Back – Azpilicueta
Undoubtedly, Chelsea's best defender in the ongoing season, performed fantastically well against Dynamo Kyiv when they met in the Valeriy Lobanovskyi Dynamo Stadium. So naturally, he should start against them in the Stamford Bridge.
Central Midfielder – Nemanja Matić
One of Chelsea's most disappointing players in the current season, should start against Dynamo Kyiv and show that he can still perform in the heart of the midfield. Chelsea fans know what he is capable of, and although he has had a massive downgrade, he should still start with the fans hoping that he would get back on form.
Central Midfielder – Ramires
Aside from scoring an early goal against Liverpool, he didn't do much else. And although he wasn't horrible, he was extremely average. He still worked hard in the midfield, but couldn't do much when attacking and was even worse when defending. Ramires would still probably start for Chelsea though, as the Blues' other central midfielders have been shockingly awful thus far.
Right Winger – Willian
Chelsea's best player in the current season has both the quality and passion required to start for Chelsea, with the Blues' fans hoping that he'd keep up his incredible form against the Ukranian side.
Striker – Remy
Remy hasn't been given enough time to play in the current season, and should start against Dynamo Kyiv to prove his worth. He is an incredibly fast striker and could give Dynamo Kyiv's defense a very hard time.
Striker – Kenedy
Young and full of potential. Kenedy has only played 3 games for Chelsea but has always been decent in attack. He has caught the eyes of Chelsea fans (impressing them in the Stoke game) and should start against Dynamo Kyiv to completely showcase his capabilities.
Left Winger – Bertrand Traore
In the current season, Hazard has been terrible. With him even being outshone by Kenedy who is a striker and not a natural winger! Bertrand Traore, however, showed some promising signs in Chelsea's Capital One game against Stoke. Many fans were impressed by him and wanted to see more of the 20-year-old Burkinabe. He would be a welcome change, and should start against Dynamo Kyiv to prove himself to Mourinho, whose team needs a real change!
(4-2-4)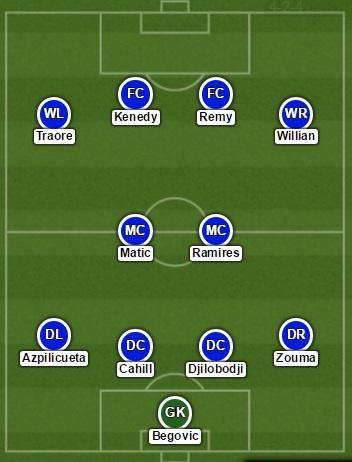 Via – Lineup Builder