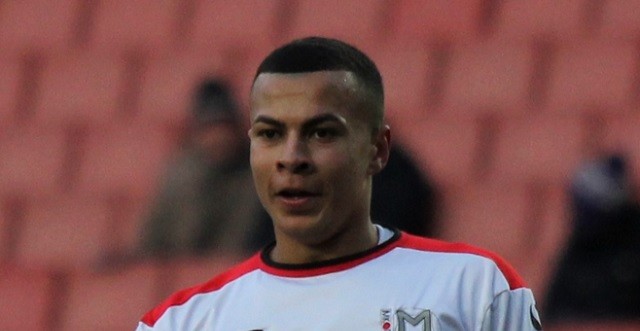 While it was not Tottenham's best performance, Spurs continued their streak to 10 EPL matches without a loss as they beat the bottom boys Aston Villa 3-1. Even with injuries to Nacer Chadli Son Hueng-Min, and Nabil Bentaleb, Pochettino has his young squad playing well beyond their years.
While the stars for Spurs are at opposite ends of the pitch (Kane, Eriksen, and Vertonghen, Alderweireld, Lloris) it has been the midfield cohesion with players such as Dele Alli, Mousa Dembele, Erik Lamela, Ryan Mason, and Eric Dier who have made the difference in their first 11 games. Spurs are currently sitting in 5th place.
Today it was Dembele and Dele Alli who found the net, but in completely different fashion. Three minutes in, Dembele manhandled Ciaran Clark on the left- wing and powered a shot through the American goalkeeper, Brad Guzan. Dele Alli brought down a deflected ball and half-volleyed a beauty in the bottom left corner for his first EPL goal at the White Hart Lane.
The similarities between the two midfielders is astonishing. They are both big players who play physical. Both have the ability to calm down a game with their foot-skills and smart passes. Neither are speedsters, yet they can run the ball up the pitch after making a tackle. Lastly, they can finish.
I would not be surprised if the 19 year-old Alli was learning a lot from Dembele during his long audition as a starter for Spurs.
In the 93rd minute, Christian Eriksen, Lamela, and Kane had a beautiful connection finalizing in a curling missile in the top right corner for the London native's 5th of the season. Kane's form has not been an issue this season, but now he is returning to the scoring pace we remember from last year.
Despite being the youngest team in the EPL, Spurs are big, strong, and fast and should be a threat for a top-4 finish this season. This weekend brings the North London Derby between Arsenal and Tottenham and it should shape up to be a top class match.