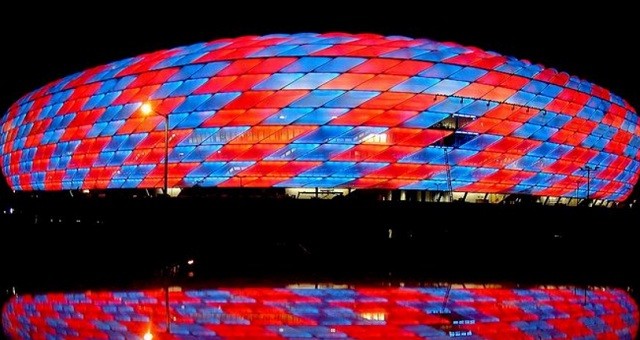 Arsenal face Bayern Munich at the Allianz Arena on Wednesday, in a match where coming away with anything less than a point could really put their qualification chances in peril.
Arsenal have three points from their first three games in the Champions League, although those three points came from a very impressive 2-0 win against Bayern a few weeks ago. A win would put Arsenal in control of their destiny, whereas a loss would require certain results to go their way.
Arsene Wenger acknowledged that he would be happy if his team came back from Germany with a draw, although he was keen to stress that his team would not be playing for that result.
There is no new team news and Arsenal does not have many players available off the bench to rotate into the starting squad, bar possibly Gabriel. It's unlikely that Wenger will choose to rotate in this match and we should see the same squad that gritted out an impressive win against Swansea City at the Liberty Stadium on Saturday.
Here is Arsenal's probably lineup on Wednesday against Bayern Munich.
Goalkeeper – Cech
Petr Cech has eight clean sheets on the season; six of those are in the league. He made the difference for Arsenal the last time these two teams met.
Right Back – Bellerin
Hector Bellerin was excellent yet again on Saturday. His best moment came when he sprinted from the half way line to prevent Bafétimbi Gomis from getting a shot off on a break away chance.
He will likely face Douglas Costa again. The Brazilian winger gave Bellerin a difficult time in the first meeting of these two teams, but the young Spanish fullback did just enough to contain him. Bellerin may also come up against a fit again Arjen Robben.
Center Backs – Mertesacker & Koscielny
The experienced duo will likely be called up again. Gabriel has played well all season but the experience of Per Mertesacker was valuable in the last meeting, and will be valuable again. Laurent Koscielny is not droppable and he is playing like the best center back in the Premier League.
Left Back – Monreal
Nacho Monreal is the essence of dependability this season. Like Koscielny, he has been the best in his position in the Premier League this season.
Monreal will come up against Robben for the majority of the match. He will have his hands full but at the top of his game, he should be up for the challenge.
Defensive Mid – Coquelin
Francis Coquelin quietly had a good game on Saturday. He completed 100% of his passes, put in some good tackles, and made some interceptions. Basically, it was a standard performance from Coquelin.
His role will be a bit less active than usual on Wednesday. He won't be able to chase down the ball like he is used because of Bayern's ball movement. Instead he will have to be smart about his positioning and organize the team. He did this very well a few weeks ago against Bayern.
Central Mid – Cazorla
Santi Cazorla will be responsible for orchestrating Arsenal's counter attacks. He will be the deep attacking source and the person that Alexis and Mesut Özil will look to get the ball from.
Defensively, Cazorla is going to have to work hard and be astutely aware of his positioning. Like Coquelin, he did this very well last time the two teams met.
Attacking Mid – Özil
Özil was fantastic this past weekend yet again. He was fantastic the last time Bayern and Arsenal met, and he will have to be fantastic yet again.
We may see him play a little wider on Wednesday, which would allow Alexis to push up farther so Arsenal can utilize his speed on the counter. The Gunners did that for the majority of the game at the Emirates a few weeks ago, and it worked well.
Wide Right – Campbell
Joel Campbell put in a high quality performance against Swansea City. He worked hard in defense and won more tackles than Coquelin. He looked dangerous in attack, played with confidence, and looked to shoot when he had space. His performance was rewarded with a well-taken goal and his first for Arsenal in the league.
His industrious work habit on the right will be required on Wednesday. He will have a big role to play defensively and offensively.
Alex Oxlade-Chamberlain should be watching Campbell if he wants to see what Wenger expects of all his players.
Wide Left – Alexis
Alexis is always up for matches against the big teams and this will be no different. He will play an importantly role as Arsenal's speedy outlet on the counter attack.
Bayern can afford to more pay attention the Chilean because they won't have to worry about the dual speedy threat of Theo Walcott and Alexis. Wednesday could prove a frustrating night for the Chilean, unless Olivier Giroud figures out a way to draw attention away from his teammate.
Striker – Giroud
Giroud is quietly on a six goal in six games streak. Arsenal have actually faired well at the Allianz in the past, having drawn one and winning the other. In the match Arsenal won, Giroud was one of the goal scorers.
Arsenal will truly miss Walcott's speed in this match and Giroud's hold up play will have to be impeccable on Wednesday. If he can draw defenders up the field a bit, he may create some space for Alexis to expose Bayern's lack of speed through the middle of the field.
(4-2-3-1)
http://lineupbuilder.com/?sk=9b4d
http://lineupbuilder.com/?sk=9b4d