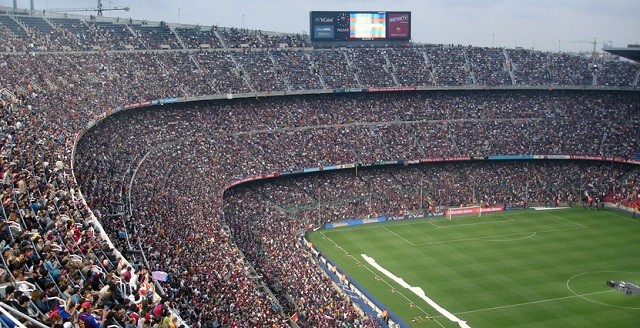 We are stepping into the 5th week of fixtures around Europe for UEFA Champions League contenders and no one is looking more confident in the group stages and in their domestic league than FC Barcelona, who are playing against BATE Borisov at the Camp Nou this Wednesday.
The main eleven train today, focused at keeping their goalscoring form and setting themselves for early registration for the knockout phase of the tournament. Coach Luis Enrique is set on dominating their home match against the Belarusian side.
Defense
Marc-Andre Ter Stegen barely had much to deal with at BATE's home ground, only providing a single save. He'll have it easy with a confident FCB in front of his goal.
At left-back, Jordi Alba has been giving great performances with top notch passing and many created chances.
Javier Mascherano was pushed into a defensive midfield role at their away fixture due to the absence of midfielders. His disciplinary problems against Eibar, resulting in a red card, might keep him from starting this time around. Playing alongside Gerard Píque should be Thomas Vermaelan, as he should playing more minutes since he's returned from injury. However, if anyone plays next to Píque, it's probably Marc Bartra.
Dani Alves will also keep his role at right-back.
Midfield
Andres Iniesta is the ball-holding midfielder will rack up possession and keep everything in line, he will play a minimum of 60 minutes. Alongside him is Sergio Busquets and Ivan Rakitic, who scored his first brace for the Spanish side at Belarus.
Offense
Neymar and Luis Suárez have been destroying their opposition in recent weeks, scoring at nearly every shot. Sandro Ramírez will accompany them. I can see a huge win for Barcelona with their current form, to the delight of the home fans.
(4-3-3)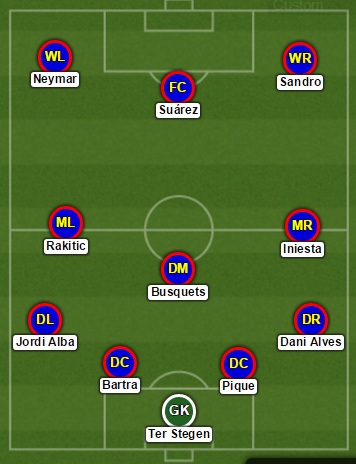 Via – Lineup Builder