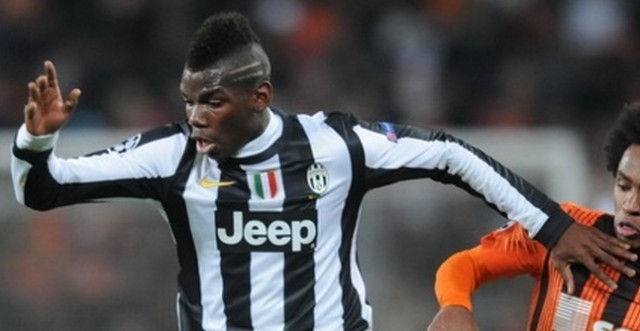 Paul Pogba, Ezequiel Lavezzi and Pierre-Emerick Aubameyang are all FC Barcelona's radar as they anticipate the coming January transfer window.
FC Barcelona have been keeping their chins up without prolific Lionel Messi up front, and are now slowly reaping the benefits as goalscorers Luis Suárez and Neymar took over Getafe in their 2-0 win Saturday afternoon. Luis Enrique is still confident in his champions and is looking towards outside Spain for strength and creativity to the Catalan club.
Paul Pogba of Juventus has been heavily linked with a move to Barca over the last year, especially during the year's summer transfer window. Pogba's agent, Mino Raiola, now states that Juve would sell the French international for around €110m (around £71m), writes RME Sport, according to the Guardian.
"We can't give figures, but last year Juventus said no to offers of €85m. One hundred million euros? Juve have always said that's the sum they want. It's a way of saying he's one of the best players on the planet…"

"…There are others who can afford him. Bayern Munich can afford him, Paris Saint-Germain can afford him…"
Barcelona seem very keen of the tenacious midfielder who tallied up 9 goals and 6 assists in all competitions last year for the Old Lady, even after a lackluster performance against them in the UCL Final in Germany.
He's a fabulous talent capable of goalscoring and maintaining possession, but it's hard to see players who haven't spent a year or two in the Spanish League excel when there is barely any chemistry. Sure, he would have Frenchman Jeremy Mathieu at his side, but that's about it.
Barcelona have already been rejected by Juventus following their offer of €85m. So a potential offer of €100m or more could burn a hole through the club's pocket.
Another name that is set to bring some goals in is Ezequiel Lavezzi of Paris-Saint Germain. La Gazzette dello Sport reports that Barcelona have agreed a deal to bring the forward to the Nou Camp by next summer.
A hard-working winger, he is said to be an good replacement for Pedro, who has already moved to Chelsea. However, he is lauded for his ineffectiveness and run of poor form. He's appeared in 13 of 14 games for PSG and has provided no assists and only one goal, compared to teammates Edinson Cavani with 8 goals and Zlatan Ibrahimovíc with 7 in all competitions.
Pierre-Emerick Aubameyang of Borussia Dortmund is a recent name said to be open for a move to Spain. The striker is in sensational form currently, scoring 11 goals in 11 appearances. Although he signed a new contract with the German club back in July which will keep him there until 2020, Aubameyang himself was quoted saying "I've always wanted to play in Spain" by ZDF in Germany; another reason is his mother being Spanish.
https://www.youtube.com/watch?v=gMxPphrgeu8
"I feel great here – but in football, things can change fast."
This player has what it takes to be an incredible goalscorer in Catalonia but will take even more to adapt to life in Spain with a completely other club. This was the same when he joined Dortmund in the summer of 2013. It took him a while to become a prominent striker, replacing Robert Lewandowksi, who would later go on to move to Bavarian rivals Bayern Munich.
Luis Enrique is constantly looking for replacements going forward to replace Munir El Haddadi and Sandro, who are both not delivering enough by Barca's standards. This coming transfer window could see huge names come to the club, with mixed results.