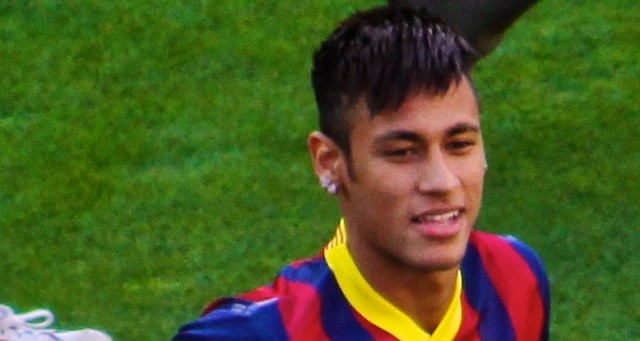 FC Barcelona head into Matchday 9 of La Liga with an away trip to the Coliseum Alfonso Pérez to face Getafe CF, looking to break the first place tie along with Real Madrid.
Luis Enrique spoke to press in advance towards this upcoming fixture and states how he recognizes the tough opponents his main eleven will be playing against. Getafe CF sit in 13th place and are looking to keep up a recent bit of good form.
"Statistics are there to be broken, but they reflect the level of difficulty we are up against…"
Luis Suarez and Neymar Jr will be coming into this match assured of themselves to leave the ground with goals; together they've created 20 goals so far this season. Good news for the Catalans come in the form of Andres Iniesta and Sergi Roberto as they return from injury, return much depth to their midfield.
Defense
Claudio Bravo has a challenge up ahead with an aggressive Getafe, looking to race towards the box. Hopefully he'll be able to stop incoming crosses and pull off a few saves.
Jordi Alba should be the main left-back. He's the necessary left-back able to rush into the wings and send crosses into the box.
Following Javier Mascherano's red card against Eibar, Gerard Píque and Jeremy Matheiu is at center-back. Marc Bartra could also accompany Píque.
At right-back, Dani Alves is the aggressive defender to create chances and dominate the right side of the field with possession.
Midfield
Ivan Rakitic didn't play any minutes at Villanovense but will be a pivotal player in the midfield against Getafe. Sergio Busquets will also be an important ball-winner fighting the oncoming offense.
I look towards Andres Iniesta to return to the first eleven after a month with a hamstring injury but he could be rested in favor for either returning Sergi Roberto or even Sergi Samper. 
Offense
Neymar and Luis Suarez were smartly left in Barcelona while Barça B talent took their roles at Villanovense. They'll need to score a good amount of goals in case they concede early. Sandro  plays at the right-wing, despite being invisible through in their Copa Del Rey fixture.
(4-3-3)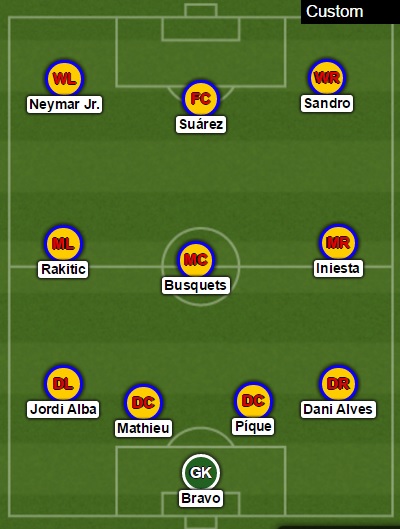 Via – Lineup Builder