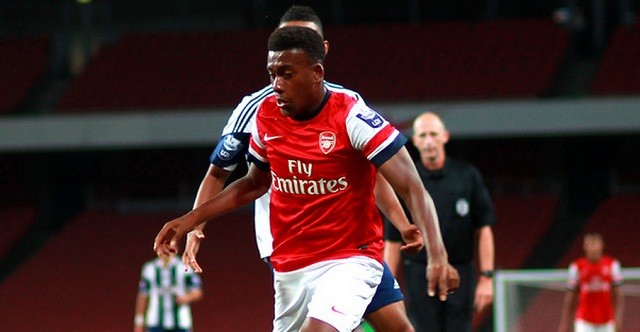 With Arsenal in a bit of an injury crisis, they may have to turn to youth.
Joel Campbell will start on the right wing on Saturday against Swansea City, and possibly in the following matches against Bayern Munich and Tottenham.
Arsenal is without Aaron Ramsey, Theo Walcott, Alex Oxlade-Chamberlain, Danny Welbeck, Tomas Rosicky, and Jack Wilshere for the next weeks, and for some of them into February. All six of these players would be options on the right.
Not only is Arsenal taking a hit in right midfield, but they are also taking a huge blow to their bench options. This means that the likes of Alex Iwobi, Jeff Reine-Adelaide, and Dan Crowley could all feature on the bench for Arsenal in the next few matches.
Iwobi recently made his first senior international appearances for Nigeria. He was one of the stars of Arsenal's pre-season campaign and featured on the bench in the Community Shield against Chelsea in August.
After putting in a so-so performance against Sheffield Wednesday on Tuesday where nothing went right for the Gunners, Arsene Wenger listed Iwobi has one of his options on the right for the next few matches.
Although Iwobi did not impress during the week, he may do better playing with players of a higher caliber. Alexis, Mesut Özil, and Santi Cazorla could all do enough to find ways to get him positively involved in the match, while also hiding his weaknesses.
17-year old Jeff Reine-Adelaide is another youth player who could have a role to play off the bench in the coming weeks. Like Iwobi, Reine-Adelaide, or The Jeff as Gooners affectionately call him, was one of the stars of Arsenal's pre-season campaign.
The Jeff moved to Arsenal from RC Lens this summer and he seems to be the most ready for senior team football out of all the youngsters. He had two eye-catching performances against Wolfsburg and Lyon in the Emirates Cup, proving why the Arsenal staff holds the French youngster in such high regard.
Reine-Adelaide just wrapped up Frances Under-17 World Cup campaign, and could provide Wenger with an additional option on the bench for next weekend's match against Tottenham, and possibly for Wednesday's match against Bayern Munich.
Dan Crowley is the third youngster who could find a place on the bench in the next few matches. Crowley was recently recalled from a loan with Brentford where he made 13 appearances and scored a goal against Everton in the Capital One Cup.
The England Under-19 international is held in high regard at the Emirates and many believe he has a long-term future with the club.
There is some uncertainty surrounding why he was recalled though. Early reports suggested Brentford cancelled the loan because they were unimpressed with the youngster. However, the reaction of Brentford fans indicates otherwise.
Surely we haven't really sent Crowley back?!?! That would be moronic #barnsleyfc https://t.co/xZVY0NvOXZ

— TFS Barnsley (@TFS_Barnsley) October 28, 2015
It is very possible that Crowley was recalled by Arsenal to provide midfield depth due to the rash of injuries. Wenger did something very similar last season when he recalled Francis Coquelin from Charlton around this time last season. If this is the case, then we may well see Crowley's name on the substitute list in the next three matches.
One youngster that will not be recalled from his loan to alleviate the injury crisis is Serge Gnabry. The German youngster is on a season long loan with West Brom and has hardly featured for the Baggies this season.
Gnabry is one of Arsenal's most promising youngsters and has been regularly tipped as a star for the future. However, West Brom manager Tony Pulis has not been impressed with the youngster so far, claiming that he is not yet ready for first team football.
Wenger issued a challenge to Gnabry in response to Pulis' criticism, and called on the youngster to change Pulis' mind.
"He has to change the opinion of Tony Pulis because I think that Serge Gnabry has the quality to play in the Premier League. He has shown that.
"It's good that he faces this kind of battle because it will make him stronger if he turns the opinion of Tony Pulis around. I hope that he's facing the challenge and is putting the effort in."
Gnabry memorably played in important role in the first half of Arsenal's 2013-2014 season that saw them sit top of the table for the majority of the year. Then an 18-year old, Gnabry started a string of matches including Arsenal's 2-0 win in the FA Cup over Tottenham. He also started and scored the matches only goal in a win against Swansea a few weeks before that memorable FA Cup win.
Gnabry would be the most natural selection to fill up the right wing spot and would almost certainly start ahead of Campbell. However, recalling him from his loan would do the youngster a disservice because he would likely feature for Arsenal only a handful of times.
Staying at West Brom seems like the best option for Gnabry's development; even it means that Arsenal has to fill their bench with young, but promising, attacking options.