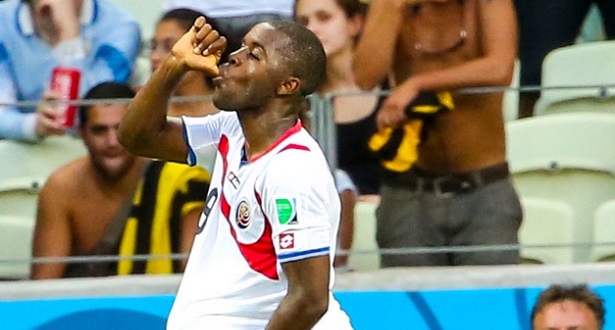 With Joel Campbell set to make his first start in the Premier League against Swansea City on Saturday, Arsene Wenger has challenged his player to take advantage of the opportunity.
Arsenal will be without the services of Alex Oxlade-Chamberlain, Theo Walcott, and Aaron Ramsey until after the international break, and possibly into December in the case of Walcott. The club is already missing Danny Welbeck, Jack Wilshere, and Tomas Rosicky to long-term injuries. All six of these players would be options to start on the right ahead of Campbell.
Speaking ahead of Arsenal's match against Swansea City on Saturday, Wenger reiterated what impresses him about Campbell.
"I have been very impressed with Campbell, his attitude is outstanding and his daily dedication in training and his desire to improve is absolutely outstanding.
"I think he can be a big help for us, and he can play center forward don't forget that. In the coming two or three months he can be a very important player for us."
Wenger went on to discuss how the club's growing injury list is challenging the squad.
"This is a challenge for me and for the players who come in to show their quality. At the end you can find yourself with a bigger squad – that is what happened with Coquelin and Bellerin last season."
It's a bit opportunistic to expect Campbell to have the same effect that Francis Coquelin and Hector Bellerin had and continue to have on the squad. But in fairness to the Costa Rican international, he hasn't really had the opportunity to shine through.
The same could be said about Coquelin and Bellerin at this time last season. Coquelin had gone on a season long loan to Germany and France, before being recalled from Charlton this time last year to provide midfield depth. Prior to those loan periods, he had hardly played for the first team and had trouble impressing when he did feature.
Bellerin had only just returned to the Arsenal squad after an unsuccessful season long loan at Watford. The young Spaniard made a few starts for Arsenal early last season due to injuries, where he showed flashes of potential and plenty of naivety.
Now, Bellerin is a star in the making and Coquelin is pushing to be included in France's Euro 2016 squad.
Wenger may be hoping that Campbell's performances and confidence may improve playing along the likes of Mesut Özil, Alexis, and Santi Cazorla. It's possible that if Campbell focuses on what he is good at, the players around him may make him look better.
Then again, the skeptics will say that Wenger's comments about Campbell is a ploy to instill confidence in a player who has failed to impress in the past, but is forced into action because the manager doesn't have another hand to play.
Campbell has after all played 50 times for his country and played for a World Cup team that progressed all the way to the Quarter Finals. He also appeared 25 times for Lorient, 28 times for Betis, 32 times for Olympiakos, and 15 times for Villarreal.
When you consider that fact that he has extensive international and Champions League experience, you cannot use a lack of experience or opportunity for Campbell's inability to break through to the first team on even somewhat consistent basis.
Whichever reason Wenger made those comments for, one thing is for certain. The next three matches, and possibly the weeks after the international break, could have a lasting affect on Campbell's Arsenal career.